The Queensland Government is now in caretaker mode until after the state election. Minimal updates will be made to this site until after the election results are declared.
Japanese sunflower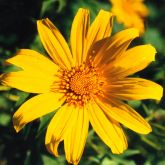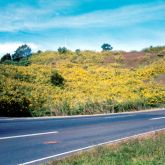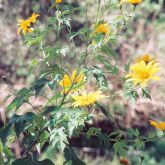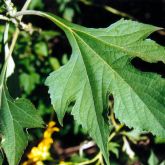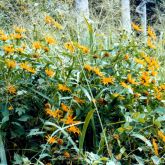 Native to Central America, Japanese sunflower is a hardy shrub with sunflower-like blooms. In the wild, it can form dense thickets and out-compete native vegetation. Japanese sunflower is found along the coast from Far North Queensland to Northern New South Wales.
Japanese sunflower is not a prohibited or restricted invasive plant under the Biosecurity Act 2014.
Scientific name
Tithonia diversifolia
Description
Shrub up to 3m tall.
Stems are hairy, slightly ridged.
Leaves are pale green, 5-lobed, serrated, hairy, 6-15cm long, 5-12cm, wide, with tapered leaf blades 6-33cm long, 5-22cm wide.
Flowers are sunflower-like heads up to 10cm across, with yellow flower centres and reddish-orange petals 4-5cm long.
Seeds are 4-8mm long, topped with ring.
Habitat
Found along roadsides and embankments, and on unmanaged lands and fire degraded hillsides.
Distribution
Occurs in coastal Queensland.
Widespread and common in Far North Queensland.
Impacts
Environmental
Forms dense thickets and out-competes native vegetation.
How it is spread
Seeds spread by animals, water, on clothing and from dumped garden waste.
Control
Physical control
Small infestations can be dug out or chipped.
Herbicide control
Herbicides are effective.
See the Japanese sunflower fact sheet (PDF, 188KB) for herbicide control and application rates.
Biological control
No known biological control agents.
Legal requirements
Japanese sunflower is not a prohibited or restricted invasive plant under the Biosecurity Act 2014. However, by law, everyone has a general biosecurity obligation (GBO) to take reasonable and practical steps to minimise the risks associated with invasive plants and animals under their control.
Local governments must have a biosecurity plan that covers invasive plants and animals in their area. This plan may include actions to be taken on certain species. Some of these actions may be required under local laws. Contact your local government for more information.
Further information
Last reviewed: 30 Jan 2020

Last updated: 30 Jan 2020