Firethorn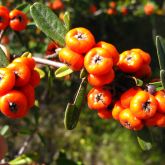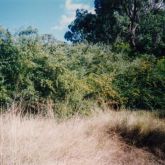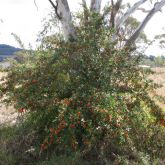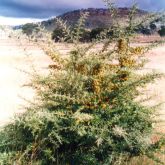 Native to parts of Asia and Europe, firethorn is a spiny, evergreen shrub. About 10 species of firethorn are found in its native range.
In Queensland, several firethorn species were popular garden ornamental plants in the past. At least 4 species have now naturalised in cooler, upland areas of South East Queensland, with Pyracantha angustifolia most widespread. Firethorn can form dense thickets that replace native vegetation.
Firethorn is not a prohibited or restricted invasive plant under the Biosecurity Act 2014.
Scientific name
Pyracantha spp.
Description
Evergreen shrub up to 6m tall.
Stems are spiny, densely hairy, white when young, red-brown when mature
Leaves are alternate, lanceolate to ovate, up to 5cm long, up to 8mm wide.
Flowers are white with 5 petals and numerous stamens 8–12mm long, occur in clusters of 30 flowers along short stems.
Fruit is round; red, orange or yellow; occurs along stems where flowers were; looks like tiny apples; 5–9mm in diameter; contains 5 seeds.
Seeds are brown, irregular, about 2.5mm.
Habitat
Prefers riparian, floodplain and forest habitats in cooler, upland areas.
Distribution
Found in southern Queensland on Granite Belt between Warwick and New South Wales border.
Also found on Darling Downs around Goomburra Valley near Allora, south of Inglewood on Dumaresq River, and around fringes of Toowoomba city.
Life cycle
Flowers appear in spring and summer.
Impacts
Environmental
Forms dense thickets that replace native vegetation.
Economic
Potential host for bacterial fire blight, a serious pest of apples and pears.
How it is spread
Seeds spread by birds or occasionally by water.
Control
Herbicide control
No herbicide registered in Queensland; however, off-label use permit (PER11463) allows use of various herbicides to control environmental weeds in non-agricultural areas, bushland, forests, wetlands, and coastal and adjacent areas.
Read the Firethorn fact sheet (PDF, 2.2MB) for herbicide control and application rates.
Legal requirements
Firethorn is not a prohibited or restricted invasive plant under the Biosecurity Act 2014. However, by law, everyone has a general biosecurity obligation (GBO) to take reasonable and practical steps to minimise the risks associated with invasive plants under their control.
Local governments must have a biosecurity plan that covers invasive plants in their area. This plan may include actions to be taken on Firethorn. Some of these actions may be required under local laws. Contact your local government for more information.
Further information
Last reviewed: 16 Jun 2022

Last updated: 16 Jun 2022