Green cestrum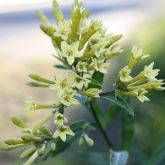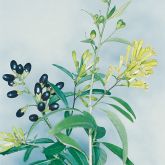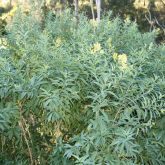 Native to Chile and Peru, green cestrum is a perennial shrub with greenish-yellow flowers. It is an escaped garden plant that has become a weed of roadsides, creeks and neglected sites in Central and South East Queensland. Green cestrum's seeds are poisonous to stock.
Green cestrum is not a prohibited or restricted invasive plant under the Biosecurity Act 2014.
Scientific name
Cestrum parqui
Description
Perennial shrub up to 3m tall, with 1 or more stems emerging from each crown.
Leaves are alternate, up to 12cm long, 2.5cm wide.
Flowers are greenish-yellow, in clusters at ends of branches, unpleasant odour by day, fragrant at night.
Flower tubes are up to 2.5cm long with 5 small terminal lobes.
Berries are purplish-black, oval, about 1cm long, each contains 1 or 2 seeds.
Seeds have irregular shape and sharp angles 3–4mm long.
Habitat
Occurs commonly on vacant allotments, roadsides and creekbanks.
Prefers higher rainfall areas and tolerates frosts.
Distribution
Found in South East Queensland and some towns in Central Queensland.
Life cycle
Plants flower after 2 years and are produced for several months through summer and autumn.
Plants are long-lived, producing new growth in spring.
Seeds germinate in autumn and remain dormant in soil for many years.
Affected animals
Livestock
domestic animals
humans
Impacts
Environmental
Out-competes vegetation on alluvial flats.
Economic
Poisonous to livestock, domestic animals, humans.
How it is spread
Spread mainly by bird-dispersed seeds.
Regenerates from root pieces to produce new infestations, particularly during crop cultivation or roadside grading.
Also spread by floodwaters.
Control
Mechanical control
Can be killed by completely digging out plants.
Take care to remove all yellow roots, otherwise plant will regrow.
Burning of roots is effective.
Herbicide control
Herbicides are effective.
Read the Green cestrum fact sheet (PDF, 3.1MB) for herbicide control and application rates.
Legal requirements
Green cestrum is not a prohibited or restricted invasive plant under the Biosecurity Act 2014. However, by law, everyone has a general biosecurity obligation (GBO) to take reasonable and practical steps to minimise the risks associated with invasive plants under their control.
Local governments must have a biosecurity plan that covers invasive plants in their area. This plan may include actions to be taken on Green cestrum. Some of these actions may be required under local laws. Contact your local government for more information.
Further information
Last reviewed: 17 Jun 2022

Last updated: 17 Jun 2022