Mock orange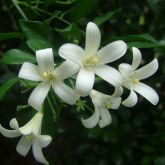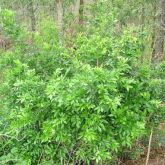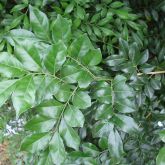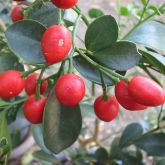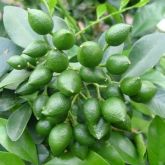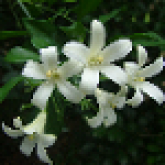 Mock orange is a bushy shrub native to southern China, Taiwan and Far North Queensland. It is a popular garden plant.
In South East Queensland it can invade native ecosystems.
Mock orange is not a prohibited or restricted invasive plant under the Biosecurity Act 2014.
Scientific name
Murraya paniculata
Other names
Honey bush, orange jasmine
Description
Bushy shrub up to 5m high.
Flowers are 10-18mm long, fragrant, white and in clusters.
Leaves are alternate, 6-12cm long, 3-9 leaflets, 1.5cm long and 1.3cm wide.
Each flower has five white petals, 10-18mm long.
Berries are small oval-shaped, up to 10mm long, bright orange or red.
Stems reach up to 13cm across and are hairless.
Habitat
Prefers native bushland, pastures, disturbed sites and along roadsides and waterways.
Commonly found in gardens.
Distribution
Found throughout South East Queensland.
Life cycle
Flowering occurs irregularly throughout the year, often brought on by rain, but commonly flowers from late winter to late spring.
Reproduces by seed.
Impacts
Environmental
Crowds out native vegetation forming dense populations.
Social
The pollen may cause allergic rhinitis and trigger airway conditions in susceptible people.
How it is spread
Spreads mainly by bird-dispersed seeds.
Can also spread by dumped garden waste.
Prevention
The best form of control is prevention. Treat weed infestations when they are small—do not allow them to establish.
Control
Mechanical control
Hand-pull newly established or isolated seedlings.
Remove newly established or isolated seedlings by grubbing, brush cutting or chain sawing.
Herbicide control
Users of agricultural or veterinary chemical products must always read the label, and any permit, before using the product and strictly comply with the directions on the label and the conditions of any permit. Users are not absolved from compliance with the directions on the label or the conditions of the permit by reason of any statement made or not made in this information. To view permits or product labels visit the Australian Pesticides and Veterinary Medicines Authority website.
Legal requirements
Mock orange is not a prohibited or restricted invasive plant under the Biosecurity Act 2014. However, by law, everyone has a general biosecurity obligation (GBO) to take reasonable and practical steps to minimise the risks associated with invasive plants under their control.
Local governments must have a biosecurity plan that covers invasive plants in their area. This plan may include actions to be taken on mock orange. Some of these actions may be required under local laws. Contact your local government for more information.
Further information
Last reviewed: 14 Jun 2022

Last updated: 20 Jun 2022