Coastal morning glory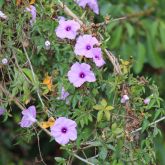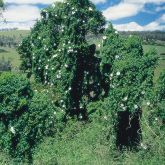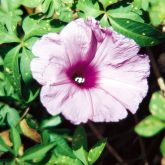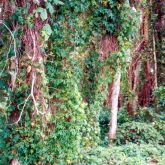 Thought to be native to tropical Africa and Asia, coastal morning glory is a fast-growing vine that can climb 4-5m into the forest canopy and smothers native vegetation. It is becoming common in areas of coastal Queensland, particularly along riverbanks.
Significant infestations of coastal morning glory can destroy native vegetation and displace native animals due to habitat destruction.
Coastal morning glory is not a prohibited or restricted invasive plant under the Biosecurity Act 2014.
Scientific name
Ipomoea cairica
Description
Leaves are alternate, hairless, 3-10cm long, 3-10cm wide, divided into 5 or 7 narrow lobes like fingers of a hand, borne on stalks (i.e. petioles) 2-6cm long.
Flowers are funnel-shaped, pink-lavender with deeper-coloured throat, 3.5-6cm long, 6-8cm wide.
Seeds are dark brown to black, 5-6mm long.
Habitat
Prefers coastal areas.
Common along riverbanks.
Distribution
Found in coastal areas of Queensland.
Life cycle
Flowers throughout most of year.
Impacts
Environmental
Smothers native vegetation.
Reduces biodiversity.
Destroys habitat of native animals.
How it is spread
Spread by seed and spreading stems.
Control
Physical control
Manually remove using brush hook or similar tool.
Dig out and remove crown and roots to prevent regrowth.
Take care to ensure your own and others safety when trimming or lopping coastal morning glory near power lines. For electrical safety information visit Worksafe Qld.
Herbicide control
Herbicides are effective on larger infestations.
See the Coastal morning glory fact sheet (PDF, 2.8MB) for herbicide control and application rates.
Legal requirements
Coastal morning glory is not a prohibited or restricted invasive plant under the Biosecurity Act 2014. However, by law, everyone has a general biosecurity obligation (GBO) to take reasonable and practical steps to minimise the risks associated with invasive plants under their control.
Local governments must have a biosecurity plan that covers invasive plants in their area. This plan may include actions to be taken on Coastal morning glory. Some of these actions may be required under local laws. Contact your local government for more information.
Further information
Last reviewed: 10 Jun 2022

Last updated: 15 Jun 2022