Arrowhead vine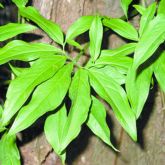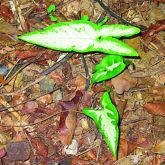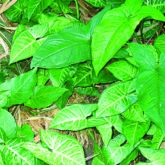 Native to Central America, arrowhead vine is a rampant creeping or climbing plant widely grown in North Queensland gardens. At least 10 different cultivars have been developed. Under the right conditions, arrowhead vine can overtake native vegetation.
Arrowhead vine is not a prohibited or restricted invasive plant under the Biosecurity Act 2014.
Scientific name
Syngonium podophyllum
Description
Creeping or climbing plant with leaves shaped like arrowheads.
Leaves are alternate, 3-lobed, up to 30cm long, 2–8cm wide.
Juvenile leaves are entire, with silvery-white veins or centre bounded by green.
Mature leaves are dark green and segmented into 3 leaflets, central leaflet being longest.
Total of 4–11 flower spikes develops in leaf axils, each comprising 6–9 green tubular flowers.
Flowers are enclosed in creamy-white to green modified leaf.
Fruit is red to reddish-orange with many black or brown seeds within soft, greyish pulp.
Habitat
Once established, will take root wherever stem touches ground.
Prefers moist, shady conditions and fertile soils.
Distribution
Commonly grown in gardens.
Naturalised in coastal districts of south-eastern, central and northern Queensland.
Life cycle
Seeds germinate in spring and plants grow until summer.
Flowers appear January to late autumn.
Fruit matures autumn to winter.
Impacts
Environmental
Creeps or climbs rampantly over native vegetation in moist shady areas with fertile soils.
How it is spread
Almost exclusively propagated by cuttings and spread by cultivation and dumping of garden refuse.
Control
Physical control
Hand-pull isolated plants and small infestations, making sure to remove all roots and stem fragments.
Herbicide control
No herbicide is currently registered for control in Queensland; however, an off-label use permit (Permit No. PER11463) covers various herbicides for control of environmental invasive plants in non-agricultural areas, bushland, forests, wetlands, and coastal and adjacent areas.
See the Arrowhead vine fact sheet (PDF, 1.8MB) for herbicide control and application rates.
Legal requirements
Arrowhead vine is not a prohibited or restricted invasive plant under the Biosecurity Act 2014. However, by law, everyone has a general biosecurity obligation (GBO) to take reasonable and practical steps to minimise the risks associated with invasive plants under their control.
Local councils must have a biosecurity plan that covers invasive plants in their area. This plan may include actions to be taken on certain species. Some of these actions may be required under local laws. Contact your local council for more information.
Further information
Last reviewed: 10 Jun 2022

Last updated: 14 Jun 2022