Bathurst burr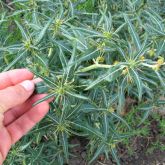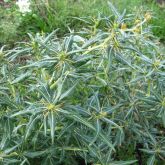 Native to South America, Bathurst burr is a small shrub with yellow-spined burrs. It was introduced to Australia in the early 1800s in contaminated grain or livestock imports.
Bathurst burr is a common invasive plant in many parts of the world, including Australia, where it is widespread. Bathurst burr can contaminate wool, poison stock, and compete with crops.
Bathurst burr is not a prohibited or restricted invasive plant under the Biosecurity Act 2014.
Scientific name
Xanthium spinosum
Description
Annual herb growing into erect, multi-branched plant up to 1m tall (usually 30–60cm).
Leaves are dark green on upper surface, paler green underneath, up to 7cm long, usually 3-lobed, with cream mid-vein.
Stems are branched, with one or two 3-pronged yellow spines at base of each leaf stalk.
Flowers are creamy green, small, developing into straw-coloured burrs.
Burrs are 1–1.5cm long, with numerous yellow-hooked spines.
Each burr contains 2 seeds.
Habitat
Prefers drier areas such as well-drained contour banks and lighter soils.
Occurs along roadsides, old cultivation paddocks and irrigated pastures or watercourses.
Distribution
Occurs in Southern, Western and Central Queensland but seldom in tropics.
Life cycle
Germinates late spring to early summer.
Produces burrs in February and dies in early winter.
Seeds can germinate out of season.
Impacts
Economic
Contaminates wool, increasing processing costs.
Competes with summer crops.
Hosts fungal diseases that can poison stock.
Seeds are poisonous to domestic stock animals.
How it is spread
Burrs attach to animals, clothing, shoes etc, easily dispersing seed.
Burrs float and can spread along watercourses.
Control
Physical control
Cultivation is effective in seedling stage.
Herbicide control
Biological control
Bathurst burr seed-fly (Euaresta bullans) and rust Puccinia xanthii may have limited effectiveness.
Legal requirements
Bathurst burr is not a prohibited or restricted invasive plant under the Biosecurity Act 2014. However, by law, everyone has a general biosecurity obligation (GBO) to take reasonable and practical steps to minimise the risks associated with invasive plants under their control.
Local governments must have a biosecurity plan that covers invasive plants in their area. This plan may include actions to be taken on Bathurst burr. Some of these actions may be required under local laws. Contact your local government for more information.
Further information
Last reviewed: 10 Jun 2022

Last updated: 2 Feb 2023