Cocos palm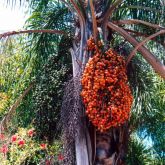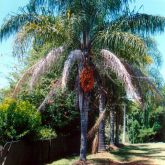 Native to Brazil, the Cocos or queen palm is a fast-growing, long-lived, resilient palm traditionally grown in many Queensland gardens. It is a prolific seeder, and seed is spread by bats into gardens and bushland. Cocos palm can invade riparian areas and dry eucalypt forest.
Cocos palm is not a prohibited or restricted invasive plant under the Biosecurity Act 2014.
Scientific name
Syagrus romanzoffiana
Description
Single-stemmed palm up to an average height of 12m.
Trunk is grey, sturdy, smooth.
Fronds are up to 5m long, with green upper surfaces, greyish undersides, leaflets radiating from central leaf stem, do not self-shed.
Flowers are yellow, stalkless, in groups of 3 with 1 female flower and 2 male, held in large, branched clusters up to 2m long.
Fruit is orange-yellow, egg-shaped, about 2.5cm in diameter.
Hanging dead fronds and fermenting dropped fruit look untidy.
Habitat
Prefers rainforests and along riverbanks.
Distribution
Most widespread and common in South East Queensland.
Also recorded as naturalised in tropical North Queensland.
Impacts
Environmental
Invades riparian areas and dry eucalypt forests.
Control
Physical control
Cut off crown below lowest frond to control individual plants.
Hand-pull or chip any seedlings that come up around base.
Pick up dead fruit and dispose of in sealed plastic bags.
Take care to ensure your own and others safety when trimming or lopping cocos palm near power lines. For electrical safety information visit the Worksafe Qld website.
Legal requirements
Cocos palm is not a prohibited or restricted invasive plant under the Biosecurity Act 2014. However, by law, everyone has a general biosecurity obligation (GBO) to take reasonable and practical steps to minimise the risks associated with invasive plants under their control.
Local governments must have a biosecurity plan that covers invasive plants in their area. This plan may include actions to be taken on Cocos palm. Some of these actions may be required under local laws. Contact your local government for more information.
Further information
Last reviewed: 10 Jun 2022

Last updated: 15 Jun 2022