White moth vine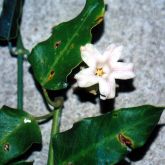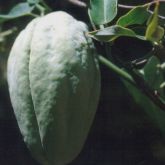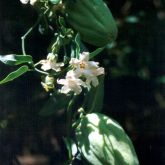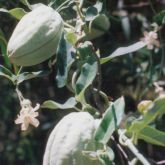 Native to Brazil, white moth vine is a vigorous, woody creeper that can smother native plants. It also exudes a milky latex that can cause allergic reactions. White moth vine is listed as a weed in several countries. It is found in South East Queensland.
White moth vine is not a prohibited or restricted invasive plant under the Biosecurity Act 2014.
Scientific name
Araujia sericifera
Other names
Moth vine, bladder flower
Description
Perennial vine that can climb up to 7m.
Leaves are triangular, opposite, up to 10cm long, with white underside.
Flowers are bell-shaped, with 5 sepals 8–13mm long, 5 petals 18–20mm long, white, pink or violet.
Fruit is large, egg-shaped, 6‐12cm long, 3–7cm wide, similar to choko, splits open when dry to release wind-borne seeds on silky hairs.
Seeds are blackish, topped with white, silky hairs 20–30mm long.
Habitat
Found in rainforest remnants, vine scrubs and wet sclerophyll forests.
Often seen draped over fence lines.
Distribution
Occurs in South East Queensland.
Life cycle
Flowers during summer and autumn.
Impacts
Environmental
Smothers native plants with thick, tangled growth.
Social
Exudes smelly, milky latex that may cause allergic reactions in some people.
How it is spread
Seeds spread by wind and birds.
Control
Physical control
Wear gloves when manually removing this plant due to irritating latex.
Hand-pull seedlings.
Cut roots at least 10cm below ground.
Herbicide control
Herbicides are effective.
Read the White moth vine fact sheet (PDF, 653KB) for herbicide control and application rates.
Legal requirements
White moth vine is not a prohibited or restricted invasive plant under the Biosecurity Act 2014. However, by law, everyone has a general biosecurity obligation (GBO) to take reasonable and practical steps to minimise the risks associated with invasive plants under their control.
Local governments must have a biosecurity plan that covers invasive plants in their area. This plan may include actions to be taken on White moth vine. Some of these actions may be required under local laws. Contact your local government for more information.
Further information
Last reviewed: 20 Jun 2022

Last updated: 20 Jun 2022