Easter cassia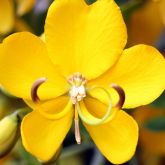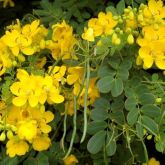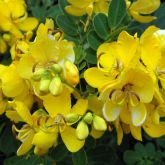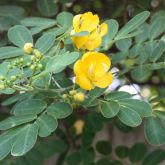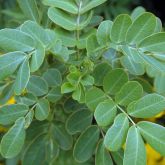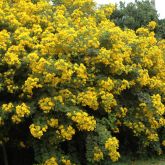 Native to South America, Easter cassia is a vigorous shrub that bears clusters of bright yellow flowers. Easter cassia is a prolific seeder, and its seedlings come up in bushland, disturbed areas and roadsides. As it grows, Easter cassia smothers native vegetation. It is common in many areas of coastal Queensland.
Easter cassia is not a prohibited or restricted invasive plant under the Biosecurity Act 2014.
Scientific name
Senna pendula var. glabrata
Description
Shrub up to about 5m tall.
Stems often grow in a zigzag pattern, may be sparsely hairy.
Leaves are pinnate, alternate, with 3–6 pairs of leaflets.
Top side of leaf stalk has gland between lowermost leaflets.
Flowers are bright yellow, 30mm across, in leafy clusters at tips of branches.
Fruit occurs after flowering, with hundreds of slender seed pods up to 12cm long.
Pods are green when young, brown when mature, each containing around 5–40 seeds.
Seeds are black, irregular.
Habitat
Prefers bushland, disturbed areas and roadsides.
Distribution
Common in South East Queensland.
Life cycle
Flowering occurs throughout year, but is most prevalent during autumn.
Impacts
Environmental
Invades disturbed or modified areas.
Smothers native vegetation.
How it is spread
Seeds can be dispersed in dumped garden waste.
Also spread by water or in contaminated soil.
Control
Physical control
Hand-pull small individual plants, particularly in moist soil.
Remove roots and consider applying mulch to discourage regrowth.
Dig out larger plants with mattock or similar garden tool.
Remove whole crown to achieve long-term control.
However, this approach may be deemed too labour-intensive for more established individual plants or for larger infestations.
Herbicide control
Herbicides are effective.
Read the Easter cassia fact sheet (PDF, 907KB) for herbicide control and application rates.
Legal requirements
Easter cassia is not a prohibited or restricted invasive plant under the Biosecurity Act 2014. However, by law, everyone has a general biosecurity obligation (GBO) to take reasonable and practical steps to minimise the risks associated with invasive plants under their control.
Local governments must have a biosecurity plan that covers invasive plants and animals in their area. This plan may include actions to be taken on Easter cassia. Some of these actions may be required under local laws. Contact your local government for more information.
Further information
Last reviewed: 16 Jun 2022

Last updated: 16 Jun 2022