Ochna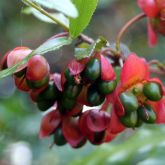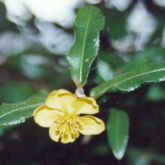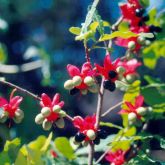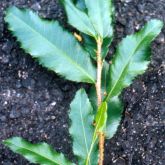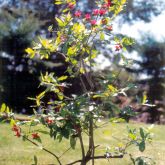 Native to Africa, ochna is a small shrub with attractive yellow flowers.
Ochna was introduced to Australia in the early 1900s and has been widely planted as a garden ornamental here. Birds spread this plant into bushland, where it can become invasive and form dense thickets that are hard to remove. Ochna is common in South East Queensland.
Ochna is not a prohibited or restricted invasive plant under the Biosecurity Act 2014.
Scientific name
Ochna serrulata
Other names
Mickey Mouse plant, Micky Mouse bush, bird's eye bush, carnival bush, small-leaved plane
Description
Erect, woody shrub up to about 1.5m tall.
Leaves are alternate, narrow, glossy, up to 5cm long, with serrated margins.
Flowers are bright yellow, 2-3cm across, 9-13mm long, with 5 petals.
Fruits are 5-8mm long, initially green, turning glossy black in summer.
Root is an angled taproot easily broken when hand-pulled (so plant easily reshoots).
Habitat
Prefers subtropical areas.
Found along roadsides and in rainforests, riparian areas and disturbed areas.
Distribution
Commonly found in South East Queensland.
Life cycle
Flowers mainly in spring and summer.
Impacts
Environmental
Invades bare areas of disturbed riparian habitat.
How it is spread
Spread mainly by bird-dispersed seeds.
Can also spread in dumped garden waste.
Control
Physical control
Hand-pulling can be most effective method of control for young seedlings.
Take care not to break tap root.
Larger plants may need to be grubbed out with mattock.
Herbicide control
Herbicides are effective.
See the Ochna fact sheet (PDF, 802KB) for herbicide control and application rates.
Legal requirements
Ochna is not a prohibited or restricted invasive plant under the Biosecurity Act 2014. However, by law, everyone has a general biosecurity obligation (GBO) to take reasonable and practical steps to minimise the risks associated with invasive plants under their control.
Local governments must have a biosecurity plan that covers invasive plants in their area. This plan may include actions to be taken on Ochna. Some of these actions may be required under local laws. Contact your local government for more information.
Further information
Last reviewed: 14 Jun 2022

Last updated: 20 Jun 2022