Giant reed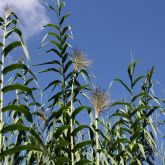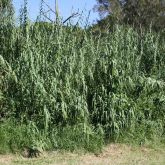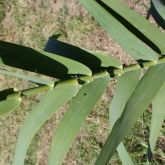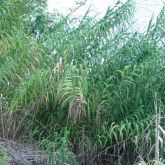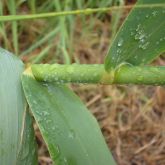 Believed to originate in either India, tropical Asia or the Mediterranean region, giant reed is a large, robust grass with feathery flowers.
Giant reed is a major pest in Mexico, South Africa and the USA, where it has formed extensive pure stands in freshwater riparian habitats, replacing other vegetation.
Giant reed appears to be in an early stage of population development in Queensland. Despite being relatively slow to spread, giant reed has the potential to become a widespread and abundant pest over the long term. Giant reed has recently been promoted as a new source of quick-growing 'biofuel' (often referred to as 'Adx').
Giant reed is not a prohibited or restricted invasive plant under the Biosecurity Act 2014.
Scientific name
Arundo donax
Description
Perennial grass generally 3–6m tall.
Leaves are 30–100cm long, 2–7cm wide, clasping the stem.
Stems are hollow, 2–3cm in diameter.
Flowers are upright, feathery, 30–60cm long (up to 30cm wide).
Habitat
Prefers open (disturbed) freshwater riparian habitats, especially floodplains and creekbanks in subtropical coastal areas.
Distribution
Found in numerous small populations scattered across Queensland.
Life cycle
Starts flowering in late summer.
Impacts
Environmental
Invades riparian habitats, including floodplains, creekbanks and riverbanks.
Forms dense, pure stands that replace other vegetation.
Economic
Uses large amounts of groundwater.
How it is spread
Seeds are dispersed by wind.
Legal requirements
Giant reed is not a prohibited or restricted invasive plant under the Biosecurity Act 2014. However, by law, everyone has a general biosecurity obligation (GBO) to take reasonable and practical steps to minimise the risks associated with invasive plants under their control.
Local governments must have a biosecurity plan that covers invasive plants in their area. This plan may include actions to be taken on Giant reed. Some of these actions may be required under local laws. Contact your local government for more information.
Further information
Last reviewed: 17 Jun 2022

Last updated: 17 Jun 2022