Duranta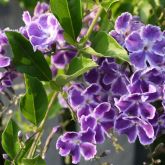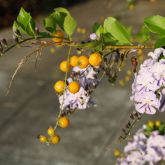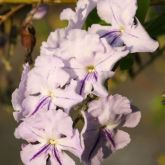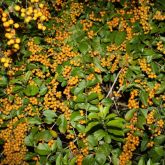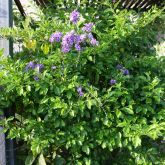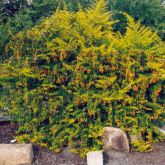 Native to tropical America from Florida to Brazil, duranta is a flowering shrub that can invade natural areas and roadsides. It was introduced to Australia as an ornamental plant. Duranta's orange fruit attracts birds, which spread the plant into bushland. Duranta is found in coastal Queensland.
Duranta is not a prohibited or restricted invasive plant under the Biosecurity Act 2014.
Scientific name
Duranta erecta
Description
Shrub or small tree up to 7m tall.
Branches are spiny and drooping.
Leaves are opposite, egg-shaped, 2–8cm long.
Stalks are dark to light green or yellow.
Flowers are blue, tubular, 1cm long, in sprays up to 20cm long.
Fruit are bright orange-yellow, round, 5–14mm across.
Seeds break into 4 oval, pale brown nutlets 4–5 mm long.
Habitat
Invades urban bushland, forest margins and roadsides.
Distribution
Coastal areas of Queensland.
Life cycle
Flowers in spring and summer.
Holds berries for long periods.
Impacts
Environmental
Invades disturbed areas of native vegetation and road embankments.
How it is spread
Spreads long distances by birds, and the dumping of garden waste.
Control
Physical control
Hand-pull seedlings and small plants, making sure to remove all roots and stem fragments.
Limit seed setting of larger plants until infested areas can be treated with herbicide by cutting back.
Take care to ensure your own and others safety when trimming or lopping duranta near power lines.
Herbicide control
If cut down, stump must be immediately treated with suitable herbicide or shrub will reshoot.
No herbicide is currently registered in Queensland; however, an off-label use permit (Permit No. PER11463) allows use of various herbicides to control environmental weeds in non-agricultural areas, bushland, forests, wetlands, and coastal and adjacent areas.
Read the Duranta or golden dewdrops fact sheet (PDF, 3.6MB) for herbicide control and application rates.
Legal requirements
Duranta is not a prohibited or restricted invasive plant under the Biosecurity Act 2014. However, by law, everyone has a general biosecurity obligation (GBO) to take reasonable and practical steps to minimise the risks associated with invasive plants under their control.
Local governments must have a biosecurity plan that covers invasive plants in their area. This plan may include actions to be taken on Duranta. Some of these actions may be required under local laws. Contact your local government for more information.
Further information
Last reviewed: 16 Jun 2022

Last updated: 16 Jun 2022