Rhodes grass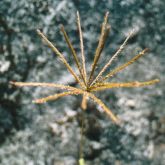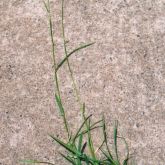 Native to southern and eastern Africa, Rhodes grass is a perennial or annual grass that is widely grown in tropical countries as a pasture species.
Rhodes grass can invade rainforest fringes and smother native ground cover species. It is found in parts of South East Queensland.
Rhodes grass is not a prohibited or restricted invasive plant under the Biosecurity Act 2014.
Scientific name
Chloris gayana
Description
Perennial or annual grass 60–160cm tall.
Leaf blades are flat or folded 12.5–45cm long and 1–2cm wide.
Inflorescences have 6–15 one-sided spikes, clustered at end of stem.
Spikes are 5–10cm long with numerous green spikelets, turning copper-brown when mature.
Habitat
Prefers tropical and subtropical areas with rainfall ranging from 600–1600mm annually.
Tolerates drought and salt.
Found along roadsides, railways, disturbed areas and footpaths.
Distribution
Found in areas in South East Queensland.
Life cycle
Produces 3–4 million seeds per kilogram.
Flowers during summer and autumn.
Impacts
Environmental
Invades rainforest fringes.
Smothers native ground cover species.
How it is spread
Spread by rhizomes, rooting stolons and seeds.
Control
Physical control
Dig out larger clumps with a mattock or similar tool.
Herbicide control
Susceptible to several herbicides.
Read the Rhodes grass fact sheet (PDF, 3.6MB) for herbicide control and application rates.
Biological control
No known biological control agent.
Legal requirements
Rhodes grass is not a prohibited or restricted invasive plant under the Biosecurity Act 2014. However, by law, everyone has a general biosecurity obligation (GBO) to take reasonable and practical steps to minimise the risks associated with invasive plants and animals under their control.
Local councils must have a biosecurity plan that covers invasive plants and animals in their area. This plan may include actions to be taken on certain species. Some of these actions may be required under local laws. Contact your local council for more information.
Further information
Last reviewed: 20 Jun 2022

Last updated: 20 Jun 2022