Umbrella tree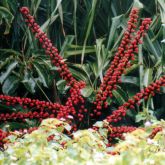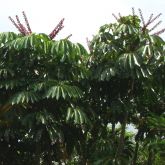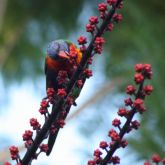 Native to tropical Australia, New Guinea and Java, umbrella tree is a fast-growing evergreen that has spread beyond its native range in Queensland. In its natural ecosystem, umbrella tree maintains a balance with other native species but, in southern Queensland, it out-competes local native species.
Umbrella tree is not a prohibited or restricted invasive plant under the Biosecurity Act 2014.
Scientific name
Schefflera actinophylla
Description
Multi-trunked, evergreen tree up to 15m tall.
Bark is smooth, grey.
Leaves are compound, with stalks up to 40cm long.
Flowers are red, with 7–18 (usually 12) petals each 3–5mm long, same number of stamens, clustered along radiating spikes up to 60cm long that grow umbrella-like above leaves.
Fruit is dark red, ribbed, up to 3–5mm long with single seed.
Seeds are pale brown, oval, 4mm wide,10mm long.
Habitat
Prefers native bushland, national parks, undisturbed sites.
Also found in backyards.
Distribution
Native to Queensland north of Tropic of Capricorn.
Also found in southern Queensland.
Life cycle
Flowers mostly during spring and summer.
Fruit appears during winter.
Impacts
Environmental
Invades national parks, remnant bushland, undisturbed forests and reserves.
Harms local ecosystems' flora and fauna.
Economic
Roots can pressure building foundations and block plumbing joints and pipes.
How it is spread
Seeds spread by birds, particularly through native bushland.
Dried fruits and seeds float readily in water and have high level of dormancy.
Control
Physical control
Cut down or dig up depending on size.
Treat stump with herbicide to prevent reshooting.
Take care to ensure your own and others safety when trimming or lopping umbrella tree near power lines.
Herbicide control
Herbicides are effective.
See the Umbrella tree fact sheet (PDF, 2.6MB) for herbicide control and application rates.
Legal requirements
Umbrella tree is not a prohibited or restricted invasive plant under the Biosecurity Act 2014. However, by law, everyone has a general biosecurity obligation (GBO) to take reasonable and practical steps to minimise the risks associated with invasive plants under their control.
Local councils must have a biosecurity plan that covers invasive plants in their area. This plan may include actions to be taken on Umbrella tree. Some of these actions may be required under local laws. Contact your local council for more information.
Further information
Last reviewed: 8 Jun 2022

Last updated: 20 Jun 2022