Molasses grass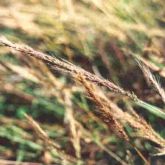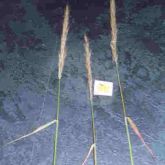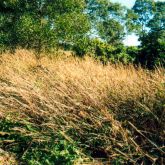 Native to Africa, molasses grass is a perennial mat grass with a strong molasses odour.
In some Pacific countries, molasses grass is regarded as good forage but, in Australia, it is considered an undesirable invasive plant. Molasses grass infestations can exclude other species.
Molasses grass is not a prohibited or restricted invasive plant under the Biosecurity Act 2014.
Scientific name
Melinis minutiflora
Description
Perennial mat grass with branched stems up to 90cm long.
Foliage is sticky with strong, molasses-like odour.
Reddish leaf blades can be up to 30cm long.
Purplish slender flower heads are 10-20cm long.
Habitat
Grows along roadsides, in disturbed areas, pastures and waste areas.
Distribution
Found in coastal districts of eastern Queensland.
Life cycle
Flowers between April–June.
Impacts
Environmental
Adopts densely smothering habit.
Grows thickly from rooted runners and excludes other species.
Dense mats may be fire-resistant, and infestations may actually increase after fire as plant invades surrounding burned areas.
How it is spread
Readily dispersed by wind, vehicles, animals and on clothing.
Control
Physical control
Manually chip out small infestations or individual plants.
Cannot tolerate grazing or mowing.
Herbicide control
Herbicides are effective.
See the Molasses grass fact sheet (PDF, 1.0MB) for herbicide control and application rates.
Biological control
No known biological control agents.
Legal requirements
Molasses grass is not a prohibited or restricted invasive plant under the Biosecurity Act 2014. However, by law, everyone has a general biosecurity obligation (GBO) to take reasonable and practical steps to minimise the risks associated with invasive plants under their control.
Local governments must have a biosecurity plan that covers invasive plants in their area. This plan may include actions to be taken on Molasses grass. Some of these actions may be required under local laws. Contact your local government for more information.
Further information
Last reviewed: 14 Jun 2022

Last updated: 20 Jun 2022