Mother-in-law's tongue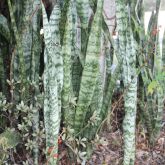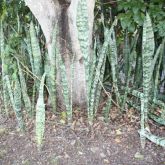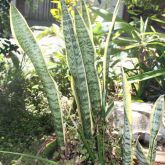 Native to Nigeria, mother-in-law's tongue is an upright, succulent plant.
A popular garden species, it is easily spread through dumping of garden waste. Bushland infestations of mother-in-law's tongue can crowd out low-growing native plants.
Mother-in-law's tongue is not a prohibited or restricted invasive plant under the Biosecurity Act 2014.
Scientific name
Sansevieria trifasciata
Other names
Snake plant, bowstring hemp, good luck plant
Description
Upright, succulent plant up to 60cm tall.
Leaves are stiff, lance-shaped, 0.6–1.2m long, dark green with mottled grey-green and yellow.
Flowers are small, tubular, cream to green, 25–30mm long, carried on spike.
Fruit are small, round, orange berries, 7–9mm in diameter.
Seeds are pale brown, oblong, 6–7mm long, 5mm wide.
Rhizomes are bright orange, thick, fleshy, succulent.
Habitat
Prefers well drained soils in shady areas, but will tolerate dry periods.
Found along roadsides and in gardens, disturbed areas, riparian vegetation.
Distribution
Common throughout eastern Queensland.
Life cycle
Flowers mostly during spring and summer.
Impacts
Environmental
Forms dense infestations, preventing regeneration of native plants in bushland and eventually forming monoculture.
How it is spread
Rhizomes spread in dumped garden waste
Seeds spread by birds and other animals.
Control
Physical control
Carefully dig out isolated plants and small infestations, making sure to remove all roots and fragments.
This requires persistent effort, regular site monitoring, and removal of any new growth and its rhizome.
Herbicide control
No herbicide currently registered; however, an off-label use permit exists (PER11463).
See the Mother-in-law's tongue fact sheet (PDF, 1.8MB) for herbicide control and application rates.
Biological control
No known biological control agents.
Legal requirements
Mother-in-law's tongue is not a prohibited or restricted invasive plant under the Biosecurity Act 2014. However, by law, everyone has a general biosecurity obligation (GBO) to take reasonable and practical steps to minimise the risks associated with invasive plants under their control.
Local councils must have a biosecurity plan that covers invasive plants in their area. This plan may include actions to be taken on Mother-in-law's tongue. Some of these actions may be required under local laws. Contact your local council for more information.
Further information
Last reviewed: 24 Jun 2022

Last updated: 24 Jun 2022