Yellow allamanda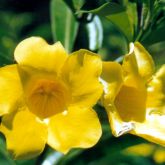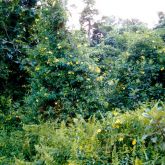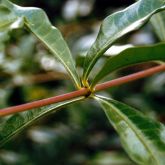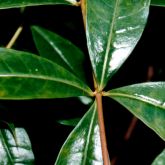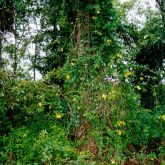 Native to South America, yellow allamanda is a climbing, vine-like shrub with striking yellow flowers. It was introduced to Queensland as an ornamental plant and is now common in gardens.
Escaped plants, dispersed seeds, and dumping of garden waste have spread yellow allamanda into bushland and along roadsides in Queensland. Yellow allamanda can be invasive and displace native species.
Yellow allamanda is not a prohibited or restricted invasive plant under the Biosecurity Act 2014.
Scientific name
Allamanda cathartica
Description
Vine-like shrub climbing to 10m.
Stems are smooth, red, bleed milky sap when cut.
Leaves are glossy, dark green, leathery, lance-shaped, 8–15cm long, 4–5cm wide, arranged in whorls (spirals) of 3–4 up stem.
Flowers are bright yellow, trumpet-shaped, 6–10cm across, with 5 overlapping petals, in clusters at ends of stems.
Fruit is seed capsule, round, with soft spines 4cm across.
Seeds are tan, flat, slightly winged.
Habitat
Prefers moist soils in tropical areas.
Found along roadsides and in gardens.
Distribution
Found in coastal and northern Queensland.
Life cycle
Flowering can occur during spring and summer.
Impacts
Environmental
Invades well drained soils on rainforest fringes and paperbark swamps and roadsides.
How it is spread
Spread via dumping of garden refuse and plants climbing from gardens into adjoining areas.
Seeds spread on wind and water.
Control
Physical control
Dig out large areas using garden fork and mattock, making sure to remove all roots and stem fragments.
If stems are cut, stump must be treated with suitable herbicide to prevent reshooting.
Herbicide control
Larger plants and thickets may be treated with herbicide.
No herbicide is currently registered for control in Queensland; however, an off-label use permit (Permit No. PER11463) allows use of various herbicides for control of environmental weeds in non-agricultural areas, bushland, forests, wetlands, and coastal and adjacent areas.
Read the Yellow allamanda fact sheet (PDF, 1.4MB) for herbicide control and application rates.
Biological control
No known biological control agents.
Legal requirements
Yellow allamanda is not a prohibited or restricted invasive plant under the Biosecurity Act 2014. However, by law, everyone has a general biosecurity obligation (GBO) to take reasonable and practical steps to minimise the risks associated with invasive plants under their control.
Local governments must have a biosecurity plan that covers invasive plants in their area. This plan may include actions to be taken on Yellow allamanda. Some of these actions may be required under local laws. Contact your local government for more information.
Further information
Last reviewed: 30 Jan 2020

Last updated: 2 Feb 2023