Japanese honeysuckle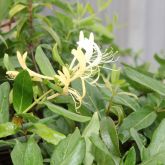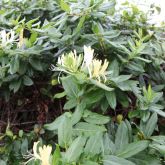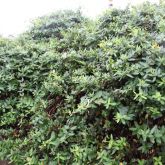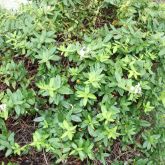 Native to eastern Asia and Japan, Japanese honeysuckle is a vigorous, twining vine. Naturalised populations occur in eastern New South Wales, South East Queensland, the Australian Capital Territory and Victoria. In bushland, Japanese honeysuckle smothers native ground cover and shrub species.
Japanese honeysuckle is not a prohibited or restricted invasive plant under the Biosecurity Act 2014.
Scientific name
Lonicera japonica
Other names
Chinese honeysuckle, honeysuckle, Japanese honeysuckle, woodbine, gold and silver flower
Similar species
European honeysuckle, winter honeysuckle
Description
Vigorous, twining, woody vine up to 2.5m tall.
Leaves are up to 75mm long, 35mm wide, in opposite pairs.
Flowers are tubular, 35mm long, cream to orange, extremely fragrant, attractive to insects, appear in pairs.
Fruits are small, blue-black berries, 5–10mm long, containing few seeds.
Habitat
Prefers rainforests, riparian areas, waste areas and disturbed sites.
Distribution
Common in South East Queensland.
Life cycle
Flowers mostly in autumn.
Impacts
Environmental
Infests forest edges and disturbed sites.
Grows as thick ground cover or dense shroud over supporting structures, including other plants.
How it is spread
Spread by birds, water, roadside machinery and dumped garden waste.
Control
Physical control
Hand-pull or cut back.
Remove roots completely or plant will regenerate.
Herbicide control
Herbicides are effective.
Read the Japanese honeysuckle fact sheet (PDF, 1.1MB) for herbicide control and application rates.
Biological control
No known biological control agents.
Legal requirements
Japanese honeysuckle is not a prohibited or restricted invasive plant under the Biosecurity Act 2014. However, by law, everyone has a general biosecurity obligation (GBO) to take reasonable and practical steps to minimise the risks associated with invasive plants under their control.
Local governments must have a biosecurity plan that covers invasive plants in their area. This plan may include actions to be taken on Japanese honeysuckle. Some of these actions may be required under local laws. Contact your local government for more information.
Further information
Last reviewed: 17 Jun 2022

Last updated: 17 Jun 2022