Diesel tree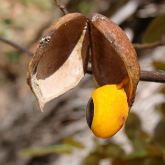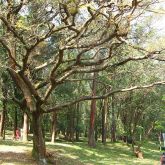 Native to South American rainforests, diesel tree is a medium to large evergreen that bears egg-shaped fruit. It produces oil that has potential application as a biofuel. While diesel tree has not naturalised in Queensland, if it did so, it could invade rainforests, other wet tropical forests, riparian vegetation, and wetter sites in the wet-dry tropical savannas.
Diesel tree is not a prohibited or restricted invasive plant under the Biosecurity Act 2014.
Scientific name
Copaifera langsdorffii
Description
Evergreen tree generally 6–15m tall (can be up to 40m).
Leaves are pinnate, 5–13cm long, with 2–4 pairs of leaflets.
Flowers are small, numerous, whitish, 3–11cm long.
Fruit are egg-shaped, 2.8–3.5cm long, about 2.5cm wide.
Habitat
Prefers tropical rainforest areas.
Can grow in both wet and dry forests.
Distribution
No record of naturalisation in Queensland.
Life cycle
Can live for up to 400 years.
Flowers between June and October.
Relies on insects to pollinate flowers.
Fruits between July and October.
Seed germination begins approximately 5 days after sowing.
Impacts
Environmental
Currently no evidence that species is invasive.
However, could affect Wet Tropics forests, riparian vegetation and tropical savannas if became invasive.
How it is spread
Fruit is dispersed by birds and other fruit-eaters.
Control
Take care to ensure your own and others safety when trimming or lopping diesel tree near power lines. Find out more about electrical safety.
Legal requirements
Diesel tree is not a prohibited or restricted invasive plant under the Biosecurity Act 2014. However, by law, everyone has a general biosecurity obligation (GBO) to take reasonable and practical steps to minimise the risks associated with invasive plants under their control.
Local governments must have a biosecurity plan that covers invasive plants and animals in their area. This plan may include actions to be taken on Diesel tree. Some of these actions may be required under local laws. Contact your local government for more information.
Further information
Last reviewed: 16 Jun 2022

Last updated: 16 Jun 2022