The Queensland Government is now in caretaker mode until after the state election. Minimal updates will be made to this site until after the election results are declared.
Blue morning glory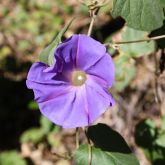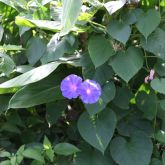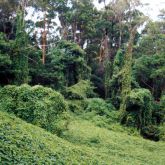 Native to tropical America, blue morning glory is a vigorous, perennial climber. It is now a common weed throughout South East Queensland and northern New South Wales.
Blue morning glory's thick, smothering growth is a common sight on many rural roadsides and forest edges.
Blue morning glory is not a prohibited or restricted invasive plant under the Biosecurity Act 2014.
Scientific name
Ipomoea indica
Description
Vine with slender stems up to 7m long.
Leaves are dark green, broadly heart-shaped, 3-5 lobes, 4-17cm long, 3-16cm wide, on leafstalk 2-18cm long.
Flowers are striking blue-mauve, funnel-shaped, with groups of 3-12 petals fused to 8cm size, short-lived, readily replaced as they die.
Seeds are angular, blackish, to 4mm long.
Habitat
Common along roadsides and forest edges.
Distribution
Found throughout South East Queensland.
Impacts
Environmental
Climbs high into canopies of native vegetation.
Creates significant shading hazard for other species.
Twining stems choke adjacent seedlings and smother mature plants.
How it is spread
Spread by slashers, water and garden refuse.
Control
Physical control
Hand-pull roots.
Mulch heavily to prevent regrowth.
Herbicide control
Herbicides are effective.
See the Blue morning glory fact sheet (PDF, 466KB) for herbicide control and application rates.
Biological control
No known biological control agents.
Legal requirements
Blue morning glory is not a prohibited or restricted invasive plant under the Biosecurity Act 2014. However, by law, everyone has a general biosecurity obligation (GBO) to take reasonable and practical steps to minimise the risks associated with invasive plants and animals under their control.
Local governments must have a biosecurity plan that covers invasive plants and animals in their area. This plan may include actions to be taken on certain species. Some of these actions may be required under local laws. Contact your local government for more information.
Further information
Last reviewed: 30 Jan 2020

Last updated: 30 Jan 2020