Willow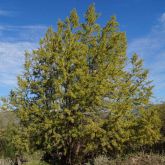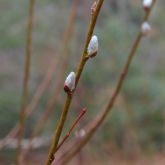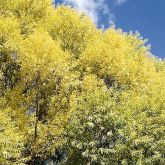 The term 'willow' refers to several different tree and shrub species, including weeping willow. Willow species are Weeds of National Significance (WONS).
Willows are among Australia's worst weeds because of their invasive tendencies, potential for spread, and economic and environmental impacts. They can invade riverbanks and wetlands, causing erosion and blocking waterways. Willows are a serious weed in Victoria, New South Wales and the Australian Capital Territory, causing millions of dollars in damage. Smaller numbers are also found in southern Queensland.
Willows are a restricted invasive plant under the Biosecurity Act 2014. However, weeping willow Salix babylonica, and two hybrid species of pussy willow Salix x calodendron and Salix x reichardtii are permitted species.
Scientific name
Salix spp.
Description
Deciduous trees or shrubs that form large, dense root-mats.
Leaves are long, narrow, with finely toothed edges (except on pussy willows).
Flower stalks have numerous tiny flowers.
Seeds are small with long, silky hairs.
Habitat
Grows along riverbanks and creeks.
Distribution
The known distribution of restricted willows in Queensland is confined to a few occurrences in Southern, Central and Northern Queensland.
Impacts
Environmental
Invades riverbanks and wetlands.
Roots spread into beds of watercourses, slowing water flow, reducing aeration and causing flooding and erosion.
Economic
Has aggressive root system in urban environments, which readily damages footpaths and drains.
How it is spread
Spread by fragments of stems or twigs breaking off and growing new roots in water.
Spread by birds, especially grey swallow and black willow.
Control
Costly to control.
Chemical and/or mechanical techniques are effective.
Legal requirements
This is a restricted invasive plant under the Biosecurity Act 2014.
It must not be given away, sold, or released into the environment without a permit.
The Act requires everyone to take all reasonable and practical steps to minimise the risks associated with invasive plants and animals under their control. This is called a general biosecurity obligation (GBO).
At a local level, each local government must have a biosecurity plan that covers invasive plants and animals in its area. This plan may include actions to be taken on certain species. Some of these actions may be required under local laws. Contact your local government for more information.
Further information
Last reviewed: 31 Oct 2015

Last updated: 16 Oct 2018