Candyleaf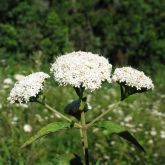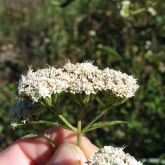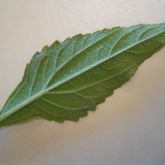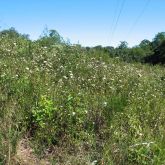 Native to tropical America (from the mountains of Texas to the mountains of Mexico, Ecuador and Peru), candyleaf is a perennial plant that bears clusters of white flowers.
Candyleaf has not been regarded as a weed overseas, but dense stands in north Queensland suggest that it may have invasive potential, particularly on open disturbed sites.
You must manage the impacts of candyleaf on your land.
You must not give away, sell or release candyleaf into the environment.
Scientific name
Stevia ovata
Description
Perennial plant, 40–80cm tall.
Flowers are small, white, in clusters.
Leaves are variable in shape, 3–6cm long, generally in opposite pairs along stem but sometimes alternately.
Habitat
Prefers open, disturbed, rocky sites, generally on mountains at high altitudes.
Can be found along roadsides and in woodlands and native pastures.
Distribution
Known to occur near Ravenshoe on the Atherton Tableland.
Impacts
Limited information available on scale of impact, but candyleaf could become significant pest.
Economic
Out-competes native pastures that may be used for grazing.
Environmental
Can form dense stands.
Invades disturbed and undisturbed land.
Legal requirements
Candyleaf is a category 3 restricted invasive plant under the Biosecurity Act 2014.
It must not be given away, sold, or released into the environment. Penalties may apply.
You must take all reasonable and practical measures to minimise the biosecurity risks associated with dealing with candyleaf under your control. This is called a general biosecurity obligation (GBO).
At a local level, each local government agency must have a biosecurity plan that covers invasive plants in its area. This plan may include actions to be taken on candyleaf. Some of these actions may be required under local laws. Contact your local council for more information.
Further information
Last reviewed: 15 Sep 2021

Last updated: 16 Sep 2021