African tulip tree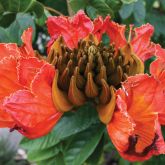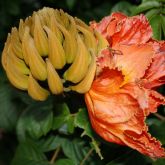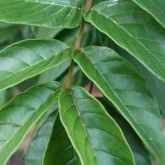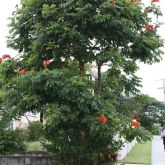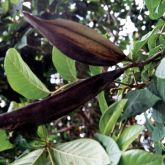 Native to tropical Africa, African tulip tree is a fast-growing evergreen tree. It is known to infest disturbed rainforest, where it out-competes native vegetation.
African tulip trees are sometimes planted as ornamentals or street trees. Non-invasive native alternatives to the African tulip tree are black bean (Castanospermum australe), wheel of fire (Stenocarpus sinuatus) and flame tree (Brachychiton acerifolius).
You must manage the impacts of African tulip tree on your land.
You must not give away, sell or release African tulip tree into the environment.
Scientific name
Spathodea campanulata
Description
Evergreen tree growing very quickly up to 24m tall.
Leaves are about 20cm long, oval-shaped, strongly veined, bronze when young, deep glossy green when mature.
Leaflets are leathery, leaf stalks are 6-15cm long.
Flower buds are bronze-green, velvety, in large, flat clusters.
Flowers are large, orange-red, with yellow frilly edges.
Seed capsules are reddish-brown, up to 20cm long.
Habitat
Often found around gullies and along footpaths.
Distribution
Widespread in tropical and subtropical Queensland where it is a popular ornamental garden tree and street tree.
Life cycle
Reproduces via seeds and suckers.
Flowering occurs at most times of year and increases during spring.
Impacts
Environmental
Infests gullies, vegetation around waterways, and disturbed rainforest, where it out-competes native vegetation.
Flowers are toxic to native stingless bees. Natural regeneration affected as bees pollinate native vegetation.
How it is spread
Can spread from single planting.
Seeds spread by wind, and by water when plants are near waterways.
Also spread by garden waste dumped in bushland.
Control
Physical control
Dig out or hand-pull when soil is moist.
Herbicide control
Herbicides are most effective control method.
Read the African tulip tree fact sheet (PDF, 799KB) for herbicide control and application rates.
Biological control
Biological control is being investigated in other countries, but African tulip tree is not a target for biological control in Australia.
Legal requirements
African tulip tree is a category 3 restricted invasive plant under the Biosecurity Act 2014.
It must not be given away, sold, or released into the environment. Penalties may apply.
You must take all reasonable and practical measures to minimise the biosecurity risks associated with dealing with African tulip tree under your control. This is called a general biosecurity obligation (GBO).
At a local level, each local government agency must have a biosecurity plan that covers invasive plants in its area. This plan may include actions to be taken on African tulip tree. Some of these actions may be required under local laws. Contact your local council for more information.
Further information
Last reviewed: 15 Sep 2021

Last updated: 15 Sep 2021