Tobacco weed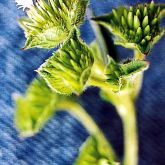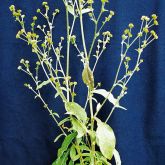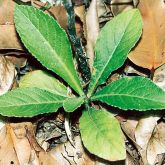 Native to the tropical Americas, tobacco weed is a vigorous and aggressive invasive plant of agriculture in many wet tropical and subtropical countries. It smothers pasture with its seedlings and is a major threat to north Queensland's beef and dairy industries.
You must manage the impacts of tobacco weed on your land.
You must not give away, sell or release tobacco weed into the environment.
Scientific name
Elephantopus mollis
Description
Slender, fast-growing herb up to 150cm tall.
Leaves are oblong or oval, 10–20cm long, 2–5cm wide, mostly at base of plant.
Leaf upper surfaces are rough, thinly covered in fine hairs.
Leaf undersurfaces are densely haired, resinous, especially on veins.
Flowers are small, white, many-headed clusters at tips of stems and side shoots.
Leaf-like bracts are in cup of 3 each cluster.
Flowers are tubular, 5 lobes at apex, about 4mm long.
Stems are mostly erect, sparsely branched, becoming woody at base when mature,
Stems have fine white hairs that may cause skin irritation when brushed against.
Seeds are brown to greyish-black, 3mm long, each with 5 fine, straight, white, bristle-like hairs on top.
Habitat
Grows in fertile soils needing moderate to high rainfall.
Distribution
Found in Millaa Millaa area of southern Atherton Tableland, at Cape Tribulation in far north Queensland, Koumala district south of Sarina, and around Teemburra Dam west of Mackay.
Life cycle
Seeds germinate any time of year in sufficient moisture.
Flowering may also occur all year, but generally in May.
Germination to reproduction time and time ungerminated seeds remains viable are not known; however, field observations indicate that seed banks build up in soil.
Impacts
Economic
Smothers healthy, thick pastures with dense masses of broadleaved seedlings.
Major threat to beef and dairy industries of north Queensland.
How it is spread
Seeds spread primarily by animals, machinery and running water.
Control
Physical control
Controlled by cultivation.
As no underground buds are produced, fire could kill a significant number of plants and may be useful during dry season.
Mechanical control
Slashing has been used to switch reproductive plants back to vegetative mode to allow treatment with herbicide.
Herbicide control
Spray plants before they develop flowering stems.
Aerial spraying is an option when plants are inaccessible, but take care to prevent drift onto remnant and regenerating rainforest in paddock margins.
Difficult to control once plant has begun to flower (and possibly as early as beginning of stem growth).
Read the tobacco weed fact sheet (PDF, 2.1MB) for herbicide control and application rates.
Biological control
No known biological control agents.
Legal requirements
Tobacco weed is a category 3 restricted invasive plant under the Biosecurity Act 2014.
You must not give away, sell or release tobacco weed into the environment. Penalties may apply.
You must take all reasonable and practical measures to minimise the biosecurity risks associated with dealing with tobacco weed under your control. This is called a general biosecurity obligation (GBO).
At a local level, each local government agency must have a biosecurity plan that covers invasive plants in its area. This plan may include actions to be taken on tobacco weed. Some of these actions may be required under local laws. Contact your local council for more information.
Further information
Last reviewed: 29 Sep 2021

Last updated: 1 Oct 2021