Climbing asparagus fern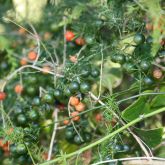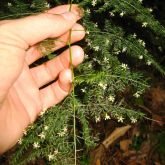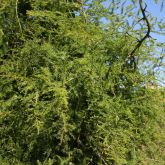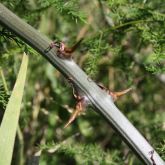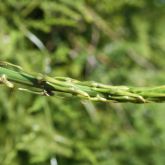 Native to southern Africa, climbing asparagus fern is a garden plant that causes serious environmental problems when it escapes into bushland. Climbing asparagus fern easily scrambles over other vegetation up to 12m into the canopy. In Queensland, it has naturalised in several coastal regions.
You must manage the impacts of climbing asparagus fern on your land.
You must not give away, sell or release climbing asparagus fern into the environment.
Scientific name
Asparagus africanus
Similar species
Description
Fast-growing plant with stems up to 12m long; can climb trees.
Leaves and stems are very fine and thorny.
Flowers are green-white, bell-shaped, 5–7mm wide.
Berries are green when young, ripening to orange, 5mm wide.
Roots appear swollen and thick, do not produce tubers.
Similar in appearance and impact to A. plumosus except A. africanus has orange berries while A. plumosus has black berries.
Without a host, can grow as scrambling low shrub.
Habitat
Prefers bushland and rainforests.
Distribution
Naturalised in several coastal regions of Queensland.
Life cycle
Flowers mostly in spring, producing berries that contain 1 seed.
Impacts
Environmental
Smothers trees and damages rainforests, vine scrubs and riparian vegetation.
How it is spread
Berries dispersed by birds.
Control

Physical control
Prevent birds from accessing berries.
Dig out roots and dispose of them at your local waste facility.
Remove entire crown and underground stem to prevent regrowth. This requires digging underneath the central growing point and lifting it out of the ground. Any regrowth that occurs can be kept under control by regular mowing or digging out.
Herbicide control
Herbicides are effective.
Read the asparagus fern fact sheet (PDF, 1.5MB) for herbicide control and application rates.
Biological control
No known biological control agents.
Legal requirements
Climbing asparagus fern is a category 3 restricted invasive plant under the Biosecurity Act 2014.
It must not be given away, sold, or released into the environment. Penalties may apply.
You must take all reasonable and practical measures to minimise the biosecurity risks associated with dealing with climbing asparagus fern under your control. This is called a general biosecurity obligation (GBO).
At a local level, each local government agency must have a biosecurity plan that covers invasive plants in its area. This plan may include actions to be taken on climbing asparagus fern. Some of these actions may be required under local laws. Contact your local council for more information.
Further information
Last reviewed: 22 Sep 2021

Last updated: 23 Sep 2021