Telegraph weed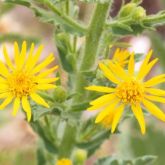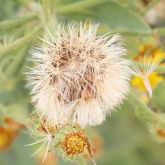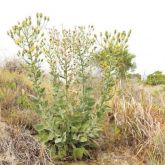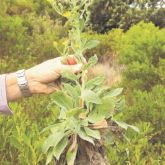 Native to northern Mexico and south-western USA, telegraph weed is a biennial or annual herb with hairy stems and yellow flowers. It forms dense infestations on sand dunes and beaches, where it can threaten native vegetation.
Telegraph weed is a common weed throughout Hawaii and was first found in Australia in central New South Wales. It was first recorded in Queensland on the Gold Coast in the early 1990s.
You must manage the impacts of Telegraph weed on your land.
You must not give away, sell or release Telegraph weed into the environment.
Scientific name
Heterotheca grandiflora
Description
Flowering herb up to 2m tall.
Leaves are ovate to oblong, 2–8cm long, 1–3.5cm wide, arranged alternately.
Stems are thick, densely hairy, 5–20cm long.
Flowers are small, yellow, daisy-like, 15–22mm wide.
Each flower head produces many seeds 2–5mm long.
Plant emits strong odour when crushed.
Habitat
Prefers open, disturbed sites with dry, sandy soils.
Distribution
Infestations occur at Labrador on the Gold Coast and on South Stradbroke Island and Wavebreak Island.
Life cycle
Produces flowers during late summer.
Impacts
Environmental
Threatens native vegetation.
Rapidly forms dense infestations on coastal sand dunes and beaches.
How it is spread
Seeds spread by wind and water.
Also spread on clothes, shoes and beach towels.
Control
Herbicide control
Herbicides are most effective control method.
Check after 4 months and re-treat as required.
Control programs have been undertaken on South Stradbroke Island and at The Spit on Gold Coast.
Biological control
No known biological control agents.
Legal requirements
Telegraph weed is a category 3 restricted invasive plant under the Biosecurity Act 2014.
You must not give away, sell, or release into the environment. Penalties may apply.
You must take all reasonable and practical measures to minimise the biosecurity risks associated with dealing with telegraph weed under your control. This is called a general biosecurity obligation (GBO).
At a local level, each local council must have a biosecurity plan that covers invasive plants and animals in its area. This plan may include actions to be taken on telegraph weed. Some of these actions may be required under local laws. Contact your local council for more information.
Further information
Last reviewed: 27 Oct 2021

Last updated: 27 Oct 2021