Water hyacinth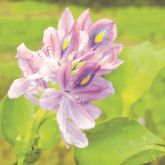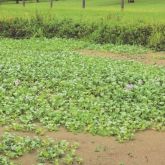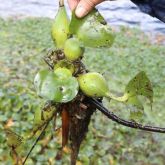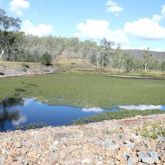 Native to Brazil, water hyacinth was introduced to Australia in the early 1900s as an aquatic ornamental plant. Valued for its floral presentation, water hyacinth was released into ponds and lagoons in public parks throughout Queensland.
Today, water hyacinth is one of the world's worst invasive aquatic plants, causing serious problems in Asia, Africa, North America and Papua New Guinea. In Australia, infestations are mostly in coastal Queensland and New South Wales.
Water hyacinth is a major pest of creeks, rivers and dams. It chokes wetlands and waterways, killing native wildlife and interfering with recreational use.
You must manage the impacts of water hyacinth on your land.
You must not give away, sell or release water hyacinth into the environment.
Scientific name
Eichhornia crassipes
Similar species
Description
Floating waterweed up to 65cm tall.
Root system is extensive (up to 1m) feathery, black to purple.
Leaves are round, bright to dark green, up to 5–10cm in diameter.
Leaf stalks of young plants are swollen into spongy, bulbous structures; mature plants have elongated leaf stalks.
Flowers are light purple with darker blue/purple and yellow centre, 4–6cm long, 3.5–5cm wide.
Flowers are in dense spikes above plant.
Fruit capsules are 10–15mm long, contain up to 300 seeds.
Seeds are egg-shaped, 0.5–1.5mm long.
Habitat
Prefers static or slow-flowing water with high nutrient concentrations.
Used illegally as ornamental plant in garden ponds.
Distribution
Found mostly in coastal Queensland.
Life cycle
Grows slowly during cooler winter months, starts rapid growth once temperatures rise.
Grows from seed and through vegetative reproduction, with vegetative reproduction the most important method of propagation.
Seeds are produced in capsules at base of each flower.
Flowering can begin as early as October and continue through summer.
Each flower stays open 1–2 days before beginning to wither.
When all flowers have withered, stalk gradually bends to water and, after about 18 days, releases seeds from capsules at base of each dead flower.
Seeds sink to substrate and persist there for at least 15 years.
Affected animals
Native aquatic animals
Humans
Impacts
Environmental
Destroys native wetlands and waterways, killing native fish and other wildlife.
Depletes water bodies of oxygen.
Increases water loss.
Provides breeding ground for mosquitoes.
Social
Large infestations stop movement of boats by clogging engine water-cooling systems.
Degrades quality of swimming and makes fishing impossible.
Interferes with and damages infrastructure.
How it is spread
Seeds and stem fragments spread mostly by water movement.
Control
Mechanical control
For small areas or when numbers are low, remove by hand or machine before plants flower and seeds set.
Control large areas with harvesters.
Herbicide control
Spraying an entire infestation can cause water hyacinth to sink and result in pollution from the rotting plant.
Avoid this by spraying strips of plant or by mechanically removing much plant before spraying. Destroy scattered plants when they appear rather than delaying treatment until entire water body has been choked.
Diquat is the only herbicide registered for use in water storage areas used for human consumption. Note that 14 days must elapse after treatment before water can be consumed.
In non-potable water bodies, water hyacinth can be treated with 2,4D, Diquat, Amitrole and Glyphosate.
See the water hyacinth fact sheet (PDF, 386KB) for herbicide control and application rates.
Biological control
Biological control is effective on large areas of water hyacinth but may take years to achieve satisfactory control.
Four insect species have been introduced from South America and released by CSIRO since 1975. The 2 weevil species Neochetina eichhorniae and Neochetina bruchi, and the 2 moth species Niphograpta albiguttalis and Xubida infusella are present in Queensland.
To establish an effective breeding population of biological control agents, infested plants should be placed in an area where water hyacinth is concentrated. Your local government office or Biosecurity Queensland can help you with protocols and more information.
The presence of these biocontrol agents does not relieve landholders of their responsibility under Queensland legislation to control declared plants.
Legal requirements
Water hyacinth is a restricted category 3 invasive plant under the Biosecurity Act 2014.
You must not give away, sell or release water hyacinth into the environment. Penalties may apply.
You must take all reasonable and practical measures to minimise the biosecurity risks associated with dealing with water hyacinth under your control. This is called a general biosecurity obligation (GBO).
At a local level, each local government must have a biosecurity plan that covers invasive plants in its area. This plan may include actions to be taken on water hyacinth. Some of these actions may be required under local laws. Contact your local government for more information.
Further information
Last reviewed: 30 Sep 2021

Last updated: 8 Oct 2021