Mother-of-millions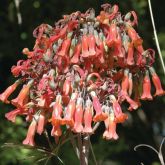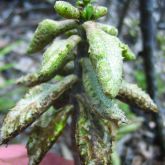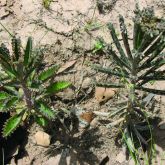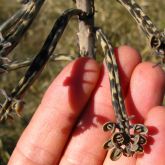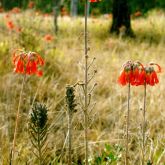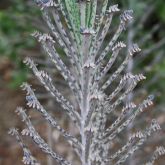 Native to Madagascar, mother-of-millions (Bryophyllum delagoense) is an escaped ornamental plant. Hybrid Mother-of-millions (Bryophyllum x houghtonii) is a cross between Mother-of millions and Bryophyllum daigremontianum and is also an escaped ornamental. Five Bryophyllum species are naturalised in Queensland. Bryophyllum pinnatum (resurrection plant, live-leaf), is also problematic but is not restricted.
Mother of millions infests grasslands, woodlands and open dunes, and is poisonous to stock.
You must manage the impacts of Mother-of-millions on your land.
You must not give away, sell or release Mother-of-millions into the environment.
Scientific name
Bryophyllum delagoense (syn. B. tubiflorum and Kalanchoe delagoensis), B. x houghtonii (syn. B. daigremontianum x B. delagoense, K. x houghtonii)
Other names
Mission bells, Christmas bells
Description
Erect, smooth, fleshy, succulent plant up to 1m or more tall.
Leaf shape varies depending on hybrid, from tubular to boat-shaped to flat.
Each leaf produces small plantlets along its edge.
Flowers are orange-red, bell-shaped, in dense clusters at top of tall flower spikes.
Habitat
Establishes well in leaf litter or other debris on shallow soils in shady woodlands.
Found on roadsides, fence lines, coastal dunes and around old rubbish dumps.
Adaptable to dry conditions.
Distribution
Affects pasturelands in Central Highlands around Clermont, Emerald and Dingo, and Burnett, Moreton and Darling Downs scrub regions.
Impacts
Environmental
Forms infestations in grasslands, open woodlands and coastal dunes.
Economic
Poisonous, with newly exposed stock especially vulnerable.
Affects use of stock routes.
How it is spread
Spread by floodwater and establishes if pastures are in poor condition.
Also spread by animals, slashers, machinery and vehicles.
Control
Physical control
Hand-pulling
For small areas, pull up plants by hand and burn on a wood heap. Alternatively, bag plants and dump them in a bin, the contents of which should be buried at your council's refuse tip rather than being recycled into mulch. Partially burnt plant material remains palatable and toxic to stock.
Fire
When suitable (e.g. after grading firebreaks), burn infestations and accompanying debris on which mother-of-millions plants thrive. This is the most economical form of control, encourages grass competition and lessens problem in following years, requiring only spot spraying with selective herbicides.
Herbicide control
Mother-of-millions may be controlled with herbicides at any time of the year, but infestations are easiest to see in winter when plants are in flower. Treating infestations at this time of year also prevents new seeds from developing on common mother-of-millions.
Read the Mother-of-millions fact sheet (PDF, 3.9MB) for herbicide control and application rates.
Biological control
South African thrip, Scirtothrips aurantii, is now widespread in Queensland. This thrip damages the outer tissue of the mother-of-millions plant and lays its eggs under the outer tissue. Where populations of thrips are high, the number of viable plantlets and flowers forming on mother-of-millions is reduced.
Thrip populations vary from year to year according to prevailing weather conditions, and may not be a satisfactory long-term control strategy.
Two weevils are possible biological control agents if they can be approved under the Biological Control Act.
Legal requirements
Mother-of-millions is a category 3 restricted invasive plant under the Biosecurity Act 2014.
You must not give away, sell or release mother-of-millions into the environment. Penalties may apply.
You must take all reasonable and practical measures to minimise the biosecurity risks associated with dealing with mother-of-millions under your control. This is called a general biosecurity obligation (GBO).
At a local level, each local government agency must have a biosecurity plan that covers invasive plants in its area. This plan may include actions to be taken on mother-of-millions. Some of these actions may be required under local laws. Contact your local council for more information.
Further information
Last reviewed: 3 Nov 2022

Last updated: 3 Nov 2022