Bitou bush
Alert
Have you seen Bitou bush?
Be on the lookout for Bitou bush and report it to Biosecurity Queensland. Early detection and reporting are the key elements in preventing Bitou bush from becoming a major problem in Queensland.
Call us on 13 25 23.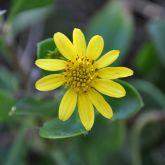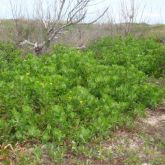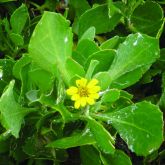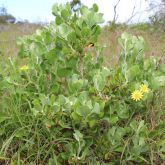 Native to southern Africa, bitou bush is an attractive, bright green perennial shrub. It occurs in all Australian states and territories except the Northern Territory, and is the dominant vegetation along much of the New South Wales coastline. Bitou bush out-competes and, in many cases, eliminates, native flora on coastal dunes.
Bitou bush was originally planted in New South Wales and parts of Queensland to revegetate coastal dunes following sand mining.
Boneseed (Chrysanthemoides monilifera ssp. Monilifera) is a close relative to bitou bush and while not yet present in Queensland it is one of the Weeds of National Significance alongside bitou and all reporting requirements for bitou are also required for sightings of boneseed.
You must manage the impacts of Bitou bush on your land.
You must not give away, sell or release Bitou bush into the environment.
You must report all sightings to Biosecurity Queensland within 24 hours.
Scientific name
Chrysanthemoides monilifera subsp. rotundata
Description
Attractive, bright green perennial shrub up to 5m high.
Flowers are yellow, chrysanthemum-like, up to 20mm in diameter, on short stalks, clustered on ends of branches.
Stems are much branched with woody upper stems, often purple.
Leaves are 20–80mm long, teardrop shape, irregularly serrated on edges, practically hairless except for cottony down on young leaves. Grow on short stalks and alternate along stems.
Fruit is spherical with green fleshy skin that changes from brown to black on maturity.
Fruit has 1 seed, which is hard and bone-like in colour and texture when ripe.
Boneseed is an erect shrub. Leaves are less rounded and more teethed than bitou bush. Boneseed flowers have 3–8 petals, seeds are bone-coloured.
Habitat
Occurs mainly in sandy, coastline areas.
Distribution
Found in Wide Bay area and in isolated spots on Noosa headland; on North and South Stradbroke Island, Moreton Island and southern Moreton Bay Islands; and scattered along the Gold Coast beach strip.
Visit Weeds Australia and click on the distribution tab to access the distribution map.
Life cycle
Produces up to 50,000 seeds per plant per year.
Germinates at any time of year, particularly after good rain.
Flowers intermittently, but mainly May–July.
Seeds remain viable for at least 2 years.
Plants flower within 6 months of germination.
Affected animals
Native birds
Native animals
Impacts
Environmental
Out-competes and often eliminates native flora on coastal dunes.
Forms dense green blankets preventing native seedlings from growing.
Destroys habitats of many native birds and animals.
How it is spread
Spreads rapidly by birds eating fruit and passing seed.
Control
Physical control
Hand-pulling
Hand-pull seedlings and plants up to 1m high.
Pulling bushes is practical treatment because bitou bush has shallow root system with no distinct taproot, unlike many other woody weeds.
Fire
Fire will destroy seedlings and many mature plants but will stimulate seed germination.
Control resulting seedlings.
Mechanical control
Cultivation
Does not persist when grazed or cultivated.
Slashing
Slashing is not effective as regrowth occurs from stump.
Removal of adult plants stimulates seed germination and these seedlings must be removed before they produce further seeds.
Herbicide control
Treat infestations when small.
Spray before berries turn black to render them sterile.
Minimise seed set; preferably spray plants within 6 months of germination.
Two spraying programs per year are necessary to prevent seeding.
Read the bitou bush fact sheet (PDF, 5.3MB) for herbicide control and application rates.
Biological control
A nationally coordinated biological control program approved 9 agents for release.
Bitou tip moths (Comostolopsis germana) and bitou seed flies (Mesoclanis polana) are reputed to be having a significant impact on seed production and plant vigour in New South Wales.
Because infestations in Queensland are localised and relatively small, eradication is the aim and biological control is not an option.
Legal requirements
Bitou bush is a category 2, 3 ,4 and 5 restricted invasive plant under the Biosecurity Act 2014.
You must not keep, move, give away, sell, or released into the environment. Penalties may apply.
All sightings of bitou bush or boneseed must be reported to Biosecurity Queensland within 24 hours of the sighting.
You must take all reasonable and practical measures to minimise the biosecurity risks associated with dealing with bitou bush under your control. This is called a general biosecurity obligation (GBO).
At a local level, each local government must have a biosecurity plan that covers invasive plants in its area. This plan may include actions to be taken on bitou bush. Some of these actions may be required under local laws. Contact your local council for more information.
Further information
Last reviewed: 8 Oct 2021

Last updated: 8 Oct 2021