Kahili ginger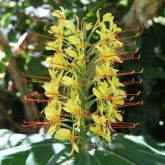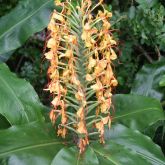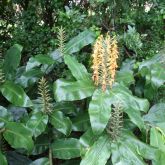 Native to India and Nepal, kahili ginger is a perennial plant known to invade many different types of ecosystems. Kahili ginger has become a major problem in a number of countries, including New Zealand and Hawaii. In Australia, it occurs in New South Wales, Victoria, and Tasmania.
Kahili ginger's popularity as a garden plant increases the risk of it establishing and spreading in Queensland. Kahili ginger suppresses growth of native trees and displaces native understorey plants.
You must manage the impacts of Kahili ginger on your land.
You must not give away, sell or release Kahili ginger into the environment.
Scientific name
Hedychium gardnerianum
Other names
Kahila garland-lilly, yellow ginger lily, wild ginger
Similar species
Description
Perennial plant 1-2m tall.
Leaves are alternate, ovate-elliptic, 20-60cm long, 8-18cm wide.
Flowers are produced in attractive spikes 12-45cm long.
Flowers are lemon-yellow with conspicuous red stamens.
Seed heads are bright red when mature, 1.5-1.8cm long.
Habitat
Prefers wet habitats and fertile soils between sea level and 1700m.
Known to invade rainforests, mountain forests, agricultural areas, coastland, disturbed areas, natural forests, planted forests, range/grasslands, riparian corridors, scrub/shrublands, urban areas and wetlands.
Distribution
Occurs in South East Queensland and Far North Queensland.
Life cycle
Observed to live for 70 years with no signs of dying out.
Flowers year-round.
Impacts
Environmental
Forms dense stands.
Suppresses recruitment of native trees and displaces native understorey plants.
Changes structure and character of native rainforest vegetation.
How it is spread
Seed spread by birds.
Also spread by dumping of unwanted plants.
Control
Physical control
Dig out plant including rhizomes.
Herbicide control
Biological control
No known biological control agents.
Legal requirements
Kahili ginger is a category 3 restricted invasive plant under the Biosecurity Act 2014.
You must take all reasonable and practical measures to minimise the biosecurity risks associated with dealing with kahili ginger under your control. This is called a general biosecurity obligation (GBO).
It must not be given away, sold, or released into the environment. Penalties may apply.
At a local level, each local government agency must have a biosecurity plan that covers invasive plants in its area. This plan may include actions to be taken on Kahili ginger. Some of these actions may be required under local laws. Contact your local council for more information.
Further information
Last reviewed: 31 Oct 2015

Last updated: 28 Jan 2021