Koster's curse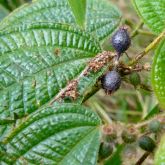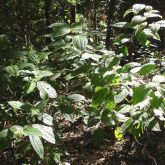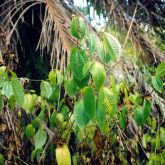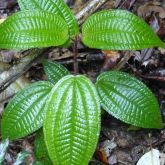 Native to tropical America, Koster's curse is a highly invasive shrub that generally grows to about 2m but can reach up to 5m tall. It forms dense thickets that can smother plantations, pastures and native vegetation. It is a serious invasive plant in at least 16 countries, including Hawaii, Fiji and Indonesia.
An infestation of Koster's curse was found near Julatten in 2001, and another infestation in the Misty Mountains, west of Innisfail in 2015.
Koster's curse has the potential to spread rapidly over many areas of Australia where conditions are suitable, including the Northern Territory, northern New South Wales, and much of north-east Queensland.
You must manage the impacts of Koster's curse on your land.
You must not give away, sell or release Koster's curse into the environment.
Scientific name
Clidemia hirta
Description
Perennial shrub, generally 50–200cm high.
Leaves are elliptical, 8–10cm long, arranged in opposite pairs, with distinctive veins giving 'quilted' appearance
Leaves and stems are covered in stiff, reddish-brown hairs.
Flowers are small, white, 1–1.5cm in diameter, produced in clusters in leaf forks.
Berries are hairy and turn dark purple when mature.
Habitat
Prefers humid tropical lowlands and waterways.
Distribution
Visit the Weeds Australia website and click on the distribution tab to access the distribution map.
Life cycle
Mature bush can produce thousands of purple berries and produce seeds all year.
Flowers throughout year.
Reproduces vegetatively (from cuttings, detached leaves and stems).
Tolerates a range of environmental conditions and reaches full maturity in less than 12 months.
Impacts
Environmental
Forms dense thickets that smother native vegetation.
Economic
Smothers plantations and pastures.
Potential to cause millions of dollars damage to primary production, irreversible damage to sensitive habitats and native plant communities.
How it is spread
Spread by fruit-eating birds and mammals.
Also spread by water, machinery and vehicles.
Control
Call 13 25 23 if you find a plant you suspect may be Koster's curse to seek advice on control options.
Legal requirements
Koster's curse is a category 2, 3, 4 and 5 restricted invasive plant under the Biosecurity Act 2014.
You must not keep, move, give away, sell or release Koster's curse into the environment. Penalties may apply.
You must report all sightings to Biosecurity Queensland within 24 hours.
At a local level, each local government must have a biosecurity plan that covers invasive plants in its area. This plan may include actions to be taken on Koster's curse. Some of these actions may be required under local laws. Contact your local council for more information.
Further information
Last reviewed: 24 Sep 2021

Last updated: 30 Sep 2021