Broad-leaf privet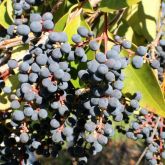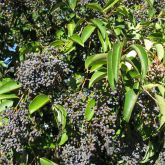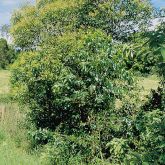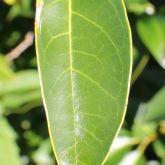 Native to Japan and China, broad leaf privet is an evergreen shrub. It is common in ornamental gardens throughout South East Queensland. Broad-leaf privet invades riparian vegetation and disturbed sites and displaces rainforest species.
You must manage the impacts of broad-leaf privet on your land.
You must not give away, sell or release broad-leaf privet into the environment.
Scientific name
Ligustrum lucidum
Description
Evergreen shrub up to 10m tall.
Branches are closely packed.
Leaves are dark green, broad, leathery, 4–13cm long, 3–6cm wide, with pointed tips, growing in opposite pairs.
Flowers are tubular, cream or white, 3.5–6mm long, with sickly sweet fragrance.
Berries are black, 9mm long, 12mm in diameter, occur in dense bunches.
Habitat
Prefers warm, humid environments.
Found around creeks, gullies and drainage lines.
Distribution
Found throughout South East Queensland.
Visit the Weeds Australia website and click on the distribution tab to access the distribution map.
Life cycle
Can live for up to 100 years.
Produces up to 10 million seeds each growing season.
Seeds survive in soil 1–2.5 years.
Impacts
Environmental
Displaces rainforest species.
Invades riparian vegetation and disturbed sites.
Forms thickets, destroying native animal habitat.
Social
Irritates hay fever sufferers.
How it is spread
Fruit eaten and dispersed by birds.
Seeds can spread by flowing water.
Control
Physical control
Control by mowing or hand-pulling.
But be aware that regrowth can occur when taproot is broken by hand-pulling.
Herbicide control
Herbicides can be effective.
Read the broad-leaf or tree privet fact sheet (PDF, 6.8MB) for herbicide control and application rates.
Biological control
No known biological control agents.
Legal requirements
Broad-leaf privet is a category 3 restricted invasive plant under the Biosecurity Act 2014.
You must not be give away, sell, or release into the environment. Penalties may apply.
You must take all reasonable and practical measures to minimise the biosecurity risks associated with dealing with broad-leaf privet under your control. This is called a general biosecurity obligation (GBO).
At a local level, each local government agency must have a biosecurity plan that covers invasive plants and animals in its area. This plan may include actions to be taken on broad-leaf privet. Some of these actions may be required under local laws. Contact your local council for more information.
Further information
Last reviewed: 27 Oct 2021

Last updated: 19 Nov 2021