Bunny ears or Golden bristle cactus
Alert
Have you seen Bunny ears or Golden bristle cactus?
Be on the lookout for Bunny ears or Golden bristle cactus and report it to Biosecurity Queensland. Early detection and reporting are the key elements in controlling Bunny ears or Golden bristle cactus.
Call us on 13 25 23.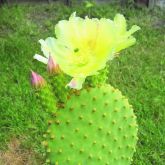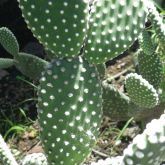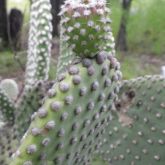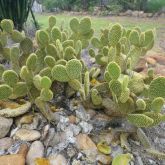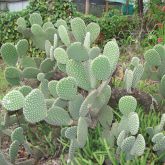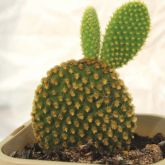 Native to northern Mexico, bunny ears cactus or golden bristle cactus is a dense shrub that is currently targeted for eradication in Queensland.
In high-risk parts of the state, Biosecurity Queensland and local governments have been helping landholders to remove bunny ears cactus to stop its spread.
If left unchecked, bunny ears cactus has the potential to spread over considerable areas of Queensland. A closely related species, prickly pear (Opuntia stricta), invaded 24 million hectares in Queensland and New South Wales by 1924, in many cases making land worthless.
You must manage the impacts of bunny ears on your land.
You must not give away, sell or release bunny ears into the environment. Penalties may apply.
You must report all sightings to Biosecurity Queensland within 24 hours.
Scientific name
Opuntia microdasys
Other names
Golden bristle cactus, polka dot cactus
Description
Dense shrub 40–60cm tall, occasionally more.
Stems are pad-like, 6–15cm long, 4–12cm wide.
No central stem, pads always grow in pairs, giving appearance of bunny ears.
Has no spines, but instead has numerous white or yellow glochids (hair-like prickles), 2–3mm long, in dense clusters.
Flowers are yellow, 3cm wide.
Fruits are fleshy, globular, 3cm long, red-purple.
Habitat
Prefers open habitats in arid and semi-arid rangeland.
Potential to become abundant and widespread in Queensland.
Distribution
Found all over Queensland, including Willows Gemfields, Emerald, Springsure, Mackay, Sarina, Gold Coast and Brisbane.
Life cycle
Vegetative spread occurs all year when segments break off, fall to ground and start growing.
Drought-resistant, they survive where other plants cannot and are easily transported by animals, people, water and vehicles.
Impacts
Environmental
Forms extensive, dense stands, much like prickly pear cactus.
Economic
Reduces agricultural productivity over large areas of arid and semi-arid grazing land.
How it is spread
Spread by movement of broken plant segments or dumping of garden waste.
Control
Phone 13 25 23 if you find a plant you suspect may be bunny ears to seek advice on control options.
Physical control
Physical control is effective.
Care needs to be taken due to spiny nature of plant. Small isolated plants are easier to remove than large infestations. All parts of plants need to be removed, which can be difficult because plant readily drops segments that will start new colonies.
Physical removal involves removing all plant material for destruction. Once removed, plants need to be treated with herbicides, left to dry, then burnt or deep buried.
Fire
Hot fires can kill cactus plants, although regrowth may occur.
This could be an option for thick infestations but Biosecurity Queensland should be consulted to see if this option is viable for your situation.
Herbicide control
No herbicide is currently registered for control of bunny ears cactus in Queensland; however, an off-label use permit (Permit No. 11463) allows use of various herbicides to control environmental weeds in non-agricultural areas, bushland, forests, wetlands, and coastal and adjacent areas.
Read the bunny ears fact sheet (PDF, 3.1MB) for herbicide control and application rates.
Legal requirements
Bunny ears or Golden bristle cactus is a category 2, 3, 4 and 5 restricted invasive plant under the Biosecurity Act 2014.
It must not be kept, moved, given away, sold, or released into the environment. Penalties may apply.
All sightings of bunny ears must be reported to Biosecurity Queensland within 24 hours of the sighting.You must take all reasonable and practical measures to minimise the biosecurity risks associated with dealing with bunny ears under your control. This is called a general biosecurity obligation (GBO).
At a local level, each local council must have a biosecurity plan that covers invasive plants in its area. This plan may include actions to be taken on bunny ears. Some of these actions may be required under local laws. Contact your local council for more information.
Further information
Last reviewed: 15 Sep 2022

Last updated: 15 Sep 2021