Cabomba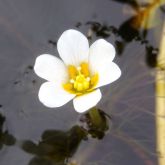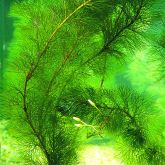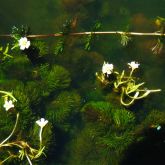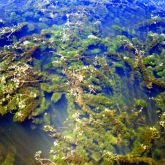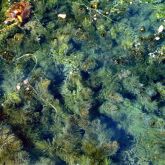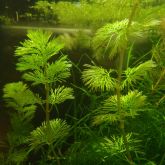 Native to North and South America, cabomba is a fully submerged aquatic plant, originally introduced to Australia as an aquarium plant. While 5 species of cabomba are recognised, only 1 of these, Cabomba caroliniana, is known to be naturalised in Australia.
Cabomba is an aggressive perennial that can form dense canopies below the water surface. Infestations displace native plants and animals, affect water quality, and impede recreational water users.
You must manage the impacts of cabomba on your land.
You must not give away, sell or release cabomba into the environment.
Scientific name
Cabomba caroliniana
Description
Perennial, submerged aquatic plant with multiple stems up to 10m long.
Submerged leaves and stems have thin gelatinous coating.
Leaves are opposite and repeatedly divided to form feathery, fan-shaped structures.
Flowers are white, produced above surface, preceded by few narrow floating leaves.
Plants can form dense canopies below water surface.
Habitat
Grows in ponds, lakes and quiet streams.
Generally rooted in water 1–3m deep (sometimes up to 6m) but continues to grow free-floating if uprooted.
Thrives in cool and warm waters.
Grows in shade and full sun.
Distribution
Visit Weeds Australia and click on the distribution tab to access the distribution map.
Life cycle
Grows and flowers predominantly in summer.
Spreads from stem fragments (regeneration by seeds has so far only been observed in Northern Territory and Victoria).
Affected animals
Humans
Native aquatic animals
Impacts
Environmental
Aggressively invades native freshwater systems.
Transforms aquatic ecosystems.
Displaces native plants.
Affects native wildlife.
Economic
Affects water quality.
Increases siltation in lakes.
Obstructs creeks, lakes and dams.
Interferes with infrastructure (e.g. irrigation).
Social
Impedes aquatic recreational activities.
Endangers swimmers who can become entangled.
How it is spread
Fragments spread by water flow, floods, watercraft, trailers, fishing gear and animals.
Spread mainly by humans.
Control
Mechanical control
Hand-pull small infestations, taking care to remove entire plant to prevent re-infestation.
Use harvesters on larger areas for temporary control.
Herbicide control
Carfentrazone is currently the only herbicide registered for control of cabomba.
Read the cabomba fact sheet (PDF, 1.1MB) for herbicide control and application rates.
Biological control
No known biological control agents.
Legal requirements
Cabomba caroliniana is a category 3 restricted invasive plant under the Biosecurity Act 2014.
You must not give away, sell or release Cabomba caroliniana into the environment. Penalties may apply.
You must report all sightings of other Cabomba species to Biosecurity Queensland within 24 hours.
All other Cabomba species are prohibited invasive plants.
You must take all reasonable and practical measures to minimise the biosecurity risks associated with dealing with Cabomba caroliniana under your control. This is called a general biosecurity obligation (GBO).
At a local level, each local government agency must have a biosecurity plan that covers invasive plants in its area. This plan may include actions to be taken on Cabomba caroliniana. Some of these actions may be required under local laws. Contact your local council for more information.
Further information
Last reviewed: 28 Sep 2021

Last updated: 15 Oct 2021