Basket asparagus fern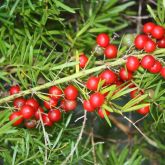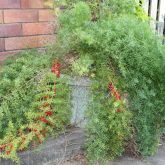 Native to Africa, basket asparagus fern has long, arching, prickly stems. One of Australia's most significant garden escapees, it becomes dominant ground cover and displaces native plants, even in undisturbed systems. Basket asparagus fern is also known as 'ground asparagus' or just 'asparagus fern'.
You must manage the impacts of basket asparagus fern on your land.
You must not give away, sell or release basket asparagus into the environment.
Scientific name
Asparagus aethiopicus cv. Sprengeri
Other names
Ground asparagus, asparagus fern
Similar species
Description
Fern with long, arching, prickly stems up to 2m long.
Leaves are light green, slender.
Flowers are small, creamy, clustered.
Fruits are up to 8mm in diameter.
Fruits ripen to bright red containing a single, black, round seed.
Starch-bearing tubers are present, but do not regrow or reproduce.
Habitat
Prefers sand dunes, shallow-soiled headlands and rainforest understorey.
Distribution
Occurs along Queensland coast and hinterland.
Visit Weeds Australia and click on the distribution tab to access the distribution map.
Life cycle
Germinates most of the year if moisture present.
Usually flowers October–February.
Impacts
Environmental
Becomes dominant ground cover, displacing native plants, even in undisturbed systems.
How it is spread
Spread by fruit-eating birds.
Control
Physical control
Remove berries, seeds and entire crown of underground stem with sharp knife to prevent regrowth.
Follow up to control seedling germination and regrowth from missed tubers.
Herbicide control
Herbicide control is effective.
Use spot spray and cut-stump methods.
Read the Asparagus ferns fact sheet (PDF, 1.5MB) for herbicide control and application rates.
Biological control
No known biological control agent.
Legal requirements
Basket asparagus fern is a category 3 restricted invasive plant under the Biosecurity Act 2014.
It must not be given away, sold, or released into the environment. Penalties may apply.
You must take all reasonable and practical measures to minimise the biosecurity risks associated with dealing with basket asparagus fern under your control. This is called a general biosecurity obligation (GBO).
At a local level, each local government agency must have a biosecurity plan that covers invasive plants in its area. This plan may include actions to be taken on basket asparagus fern. Some of these actions may be required under local laws. Contact your local council for more information.
Further information
Last reviewed: 15 Sep 2021

Last updated: 15 Sep 2021