Jumping cholla
Alert
Have you seen Jumping cholla?
Be on the lookout for Jumping cholla and report it to Biosecurity Queensland. Early detection and reporting are the key elements in controlling Jumping cholla.
Call us on 13 25 23.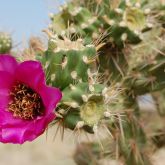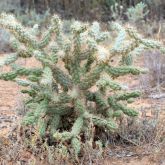 Native to California and Mexico, jumping cholla is small shrub with stems that detach when slightly touched, giving the appearance of jumping short distances. It is occasionally naturalised around Lightning Ridge and Broken Hill in New South Wales and is listed as Weeds of National Significance which covers Austrocylindropuntia, Cylindropuntia and Opuntia species.
Jumping cholla is a restricted invasive plant under the Biosecurity Act 2014.
Scientific name
Cylindropuntia prolifera
Description
Low shrub up to 0.4-1m tall.
Spines are light to dark brown, 7-11 per areole, 1-2cm long, interlacing, white to light-tan sheath firmly attached.
Flowers are rose to magenta, 25-30mm wide.
Stem segments are dull-green to greenish-grey, whorled or subwhorled, cylindrical, 4-15cm long, 4-5cm wide, waxy flaky surface when dry. Prominent tubercles and segments easily detached.
Fruit are obovoid to globose, solitary or forming chains, up to 20-50mm long, green.
Habitat
Prefers semi-arid and arid rangeland in subtropical areas.
Distribution
Small infestation found in Longreach, Queensland.
Impacts
Environmental
Destroys native pastures.
Economic
Becomes costly and time-consuming to control.
Social
Sharp spines threaten native animals, bushwalkers and farm animals.
Spines can penetrate boots and tyres.
How it is spread
Spread by animals, vehicles and humans.
Can spread vegetatively.
Spread by seed not seen in Australia.
Control
Call 13 25 23 if you find a plant you suspect may be jumping cholla to seek advice on control options.
Legal requirements
Jumping cholla is a restricted invasive plant under the Biosecurity Act 2014.
All sightings of jumping cholla must be reported to Biosecurity Queensland within 24 hours of the sighting.
By law, everyone has a general biosecurity obligation (GBO) to take all reasonable and practical steps to minimise the risk of spread of the plant until they receive advice from an authorised officer.
It must not be kept, moved, given away, sold, or released into the environment without a permit.
Further information
Last reviewed: 11 Nov 2016

Last updated: 21 Nov 2016