Hudson pear
Alert
Have you seen Hudson pear?
Be on the lookout for Hudson pear and report it to Biosecurity Queensland. Early detection and reporting are the key elements in controlling Hudson pear.
Call us on 13 25 23.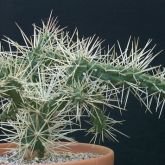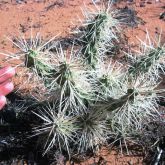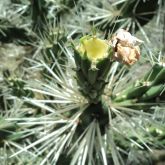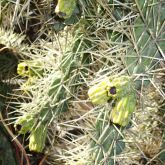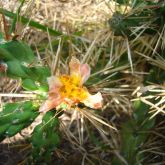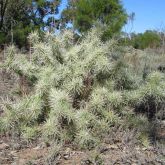 The name 'Hudson pear' refers to 2 species of thorny cactus native to Mexico: Cylindropuntia rosea and Cylindropuntia tunicata.
Hudson pear is a major pest around Lightning Ridge in New South Wales, where it has formed an extensive wild population. Smaller infestations are found in Western Australia, Northern Territory, South Australia and Queensland. Hudson pear can destroy grazing land and prevent most forms of outdoor recreation, including bushwalking and camping. Hudson pear's reverse-barbed spines can kill wildlife and a single human fatality has been recorded.
Hudson pear is a category 3 restricted invasive plant under the Biosecurity Act 2014.
Scientific name
Cylindropuntia pallida (syn. rosea) and Cylindropuntia tunicata
Other names
Rosea cactus, thistle cholla, sheathed cholla, cracow pear
Similar species
C. kleiniae, C. prolifera, C. spinosior
Description
Densely branched cactus up to 1.5m tall and 3m wide.
Spines are extremely sharp, 4.5cm long, enclosed in whitish papery sheaths.
Flowers are pink-purple, 5cm wide.
Stem segments are green to grey-green, cylindrical, 90cm long, 4cm wide.
Fruit is oval-shaped, up to 4.5cm long, yellow when ripe.
Habitat
Prefers semi-arid and arid rangeland in subtropical areas.
Distribution
Small infestations found in Queensland.
Life cycle
Hudson pear can spread by seed or vegetatively.
Affected animals
Native animals
Livestock
Humans
Impacts
Environmental
Destroys native pastures.
Economic
Becomes costly and time-consuming to control.
Social
Sharp spines threaten native animals, bushwalkers and farm animals.
Spines can penetrate boots and tyres.
How it is spread
Spread by animals, vehicles and humans.
Control
Call 13 25 23 if you find a plant you suspect may be Hudson pear to seek advice on control options.
Legal requirements
Hudson pear is a restricted invasive plant under the Biosecurity Act 2014.
It must not be given away, sold, or released into the environment.
The Act requires everyone to take all reasonable and practical measures to minimise the biosecurity risks associated with invasive plants under their control. This is called a general biosecurity obligation (GBO).
At a local level, each local government must have a biosecurity plan that covers invasive plants in its area. This plan may include actions to be taken on certain species. Some of these actions may be required under local laws. Contact your local government for more information.
Further information
Last reviewed: 17 Aug 2020

Last updated: 18 Aug 2020