Giant rat's tail grass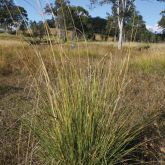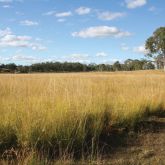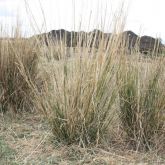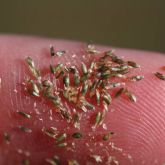 Native to Africa, giant rat's tail grass is a long, upright grass that forms large tussocks. Like other weedy sporobolus grasses, it is an aggressive grass that can reduce pasture productivity and significantly degrade natural areas.
Giant rat's tail grass was introduced to Australia around the early 1960s in contaminated pasture seed. S. natensis is now found from Rockhampton in Queensland to Port Maquarie in New South Wales, while S. pyramidalis is found from Cooktown in Queensland to the New South Wales central coast. Ecoclimatic modelling suggests giant rat's tail grass is suited to conditions present in 30% of Australia (223 million hectares).
Giant rat's tail grass is a restricted invasive plant under the Biosecurity Act 2014.
Other restricted rat's tail grasses are giant Parramatta grass (S. fertilis) and American rat's tail grass (S. jacquemontii). These species are less common in Queensland than giant rat's tail grass.
Scientific name
Sporobolus pyramidalis, S. natalensis
Description
Upright grass 0.6-1.7m tall.
Long, narrow leaf blades 20-50cm long, 2-4mm wide.
Seed head is up to 45cm long, 3cm wide.
Seed heads change shape from 'rat's tail' when young to elongated pyramid shape when mature.
Difficult to distinguish from other pasture grasses and native Sporobolus grasses before maturity.
Unlike giant Parramatta grass, giant rat's tail grass does not develop sooty spike on its seed heads.
Habitat
Suits wide range of soils and conditions.
Ecoclimatic modelling suggests giant rat's tail grass is suited to conditions present in 60% of Queensland (108 million hectares), including areas receiving as little as 500mm average annual rainfall.
Distribution
S. natalensis is found from Rockhampton to New South Wales border.
S. pyramidalis is found from Cooktown to New South Wales border.
Life cycle
Can produce up to 85,000 seeds per square metre in a year, with initial seed viability of about 90%.
Significant portion of seed can remain viable for up to 10 years.
Impacts
Economic
Quickly dominates pastures, particularly after overgrazing or soil disturbance.
Causes losses in carrying capacity and decreases production by up to 80%.
Loosens teeth of cattle and horses that graze on it.
How it is spread
Seeds spread by livestock in manure and on fur and hooves.
Also spread by feral and native animals, vehicles and machinery (especially slashers and earthmoving equipment), in hay and untested pasture seed, and by fast-flowing water over turf.
Control
A combined approach of different control methods, including herbicides and mechanical, with land management practices is most effective.
Physical control
For small infestations, hand-chip, bag and remove tufts then burn them.
Herbicide control
For small infestations:

spot spray with glyphosate and flupropanate
apply glyphosate through a pressurised wick wiper.

For dense infestations:

boom spray or jet spray with glyphosate as per label or permit directions
on arable land, consider planting a long-season forage sorghum variety as a precursor to establishing a vigorous pasture; also use a recommended pre-emergent herbicide to minimise Sporobolus re-establishment
burn prior to cultivating to reduce viable seed bank
spot spray or hand-chip fence lines, headlands, drainage lines, shelter belts and any surviving or newly established weedy Sporobolus grasses to prevent reseeding.
See the Rat's tail grasses fact sheet (PDF, 2.4MB) for herbicide control and application rates.
Biological control
The Queensland Department of Agriculture and Fisheries is working with the New South Wales Department of Primary Industries to assess the effectiveness of crown rot fungus.
Legal requirements
Giant, American and giant Parramatta rat's tail grasses are restricted invasive plants under the Biosecurity Act 2014.
They must not be given away, sold, or released into the environment without a permit.
The Act requires everyone to take all reasonable and practical steps to minimise the risks associated with invasive plants and animals under their control. This is called a general biosecurity obligation (GBO).
At a local level, each local government must have a biosecurity plan that covers invasive plants and animals in its area. This plan may include actions to be taken on certain species. Some of these actions may be required under local laws. Contact your local government for more information.
Further information
Last reviewed: 29 Mar 2018

Last updated: 29 Mar 2018