Chinese celtis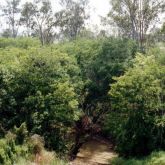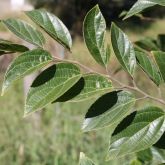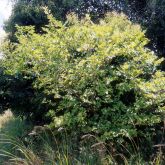 Native to Asia, Chinese celtis is a fast-growing, deciduous tree. It forms dense infestations along creekbanks and prevents native riparian vegetation from regenerating. It also sucks up water and can affect populations of native animals through habitat destruction.
Chinese celtis has naturalised throughout most of South East Queensland.
Chinese celtis is a restricted invasive plant under the Biosecurity Act 2014.
Scientific name
Celtis sinensis
Description
Deciduous tree up to 20m tall.
Bark is smooth, silver-grey.
Leaves are oval, dark green, glossy, with paler underside and pronounced veins, 4-7cm long.
Berries are small, orange, 7-8mm in diameter.
Habitat
Grows in clay soils associated with creek flats and gullies.
Forms dense infestations along riverbanks.
Distribution
Found in most of South East Queensland.
Widespread in Brisbane due to cultivation as shade tree and garden plant.
Life cycle
Flowers in spring.
Produces thousands of berries.
Impacts
Environmental
Forms dense infestations and prevents regeneration of native riparian vegetation.
Destroys habitats of native animals.
How it is spread
Seeds spread by birds, flying foxes and water.
Control
Physical control
Remove when small.
Hand-pull or dig out small seedlings.
Combine dozing, burning and controlled grazing for large infestations.
Herbicide control
Herbicides are effective for larger plants.
See the Chinese celtis fact sheet (PDF, 1.2MB) for herbicide control and application rates.
Biological control
No known biological control agents.
Legal requirements
Chinese celtis is a restricted invasive plant under the Biosecurity Act 2014.
It must not be given away, sold, or released into the environment without a permit.
The Act requires everyone to take all reasonable and practical steps to minimise the risks associated with invasive plants and animals under their control. This is called a general biosecurity obligation (GBO).
At a local level, each local government must have a biosecurity plan that covers invasive plants and animals in its area. This plan may include actions to be taken on certain species. Some of these actions may be required under local laws. Contact your local government for more information.
Further information
Last reviewed: 31 Oct 2015

Last updated: 19 Jun 2016