Hive registration and hive marking
Registration and cancellation of registration
The Biosecurity Act 2014 (the Act) requires Queensland beekeepers to register as biosecurity entities.
If you are a new beekeeper, you must register as a biosecurity entity with Biosecurity Queensland.
New registrations from 1 July 2016 will be registered as a biosecurity entity under the Act.
If you renewed your registration in March 2016 (i.e. the traditional registration renewal date for beekeepers) it will continue until March 2017, at which time you will be required to register under the new Act.
Registration is an important tool for tracing investigations in the event of a pest or disease incursion. Under the Act, if you keep at least 1 beehive you must register as a biosecurity entity. This replaces the previous requirement to be a registered beekeeper.
The Act allows for an individual, multiple people, or a business to be registered depending on who owns the hives. A registrable biosecurity entity (RBE) is allocated a hive identification number (HIN) and only 1 HIN will relate to each RBE. In most cases, your current brand will become your HIN.
You should contact our Customer Service Centre to:
advise if you have a new mailing address
transfer your hives to another beekeeper
cancel your registration.
Hive identification numbers (HIN)
Once you are registered as a biosecurity entity, you will be provided with a unique HIN to brand your hives. The HIN is not transferrable to other beekeepers. Contact our Customer Service Centre if you are no longer keeping hives and we will cancel the HIN.
The Biosecurity Act 2014 requires a beekeeper to place a HIN on 1 hive out of every 50 but it is recommended that you brand all your hives as proof of ownership and to help with recovery in the event of loss or theft. This is particularly important if your hives have old brands.
Marking or branding hives
You must maintain the legibility of hive markings. The HIN must be marked or branded:
on the front of the hive
in block letters, at least 25mm high.
The following image shows the sequence for owners' marking on the hive front.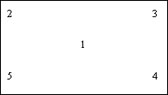 The first HIN on a hive must be placed in the centre of the front of the hive (position 1). If a hive is already marked or branded, you must place any subsequent marks or brands of the HIN in the corners of the front of the hive in a clockwise sequence, starting from the top left hand corner (position 2).
Last reviewed: 18 Jul 2016

Last updated: 16 Nov 2016