Dingo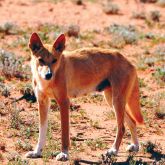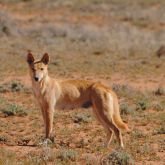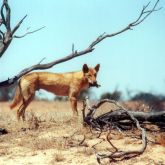 The dingo is a primitive canid related to wolves. It was not part of the ancestral fauna of Australia. Though its origins are not clear, it is thought to have arrived in Australia 3,500–4,000 years ago.
The dingo is the largest mammalian carnivore remaining in mainland Australia, and fills an important ecological niche. It has been regarded as a serious predator of domestic stock since early European settlement in Australia.
You must manage the impacts of dingoes on your land.
You must not move, keep, feed, give away, sell or release dingoes into the environment.
Scientific name
Canis familiaris dingo, Canis lupus dingo
Similar species
Wolf, New Guinea singing dog, Thai dog
Description
Primitive canid related to wolves, up to 60cm tall, weight up to 25kg.
Coat is usually red, ginger or sandy yellow, though can also be pure white, black and tan, or solid black.
Skull is heavily boned.
Teeth are larger than those of domestic dogs.
Body is naturally lean.
Ears are large, pricked.
Feet are white.
Tail has white tip.
Habitat
Habitat generalist.
Uses roads, creeks and fence lines as travel corridors.
More active in autumn (mating season).
Frequents more inaccessible areas during whelping and pup-rearing seasons (winter and spring).
Distribution
Found throughout Queensland.
In far western area, most dingoes are purebred.
Near settled areas, greater number of dingoes are crossed with feral domestic dogs.
Life cycle
Life expectancy 8–10 years.
Breeds once a year (usually April-June).
Gestation is 9 weeks.
Usually 4–6 pups per litter.
Affected animals
Domestic dogs
Stock
Humans
Impacts
Environmental
Eats small remnant populations of native species, such as bridled nailtail wallabies, koalas and tree kangaroos, threatening biodiversity.
Economic
Causes stock losses and lower production from bitten stock.
Bitten stock return lower prices than normal stock.
Creates risk of disease spreading to domestic animals (e.g. hydatidosis, neospora).
Social
Can spread hydatids and other exotic diseases that can affect human beings (e.g. rabies).
Can attack children in settled areas, particularly if public contributes to habituation and socialisation of dingoes.
Can be nuisance to householders and tourists.
Attacks and eats pets in urban fringe areas.
Control
Effective dingo control requires an integrated, collaborative approach. This can be achieved using a national approach, where control methods are applied across all tenures by all stakeholders at a landscape (rather than property) level, in a cooperative, coordinated manner.
Different control methods, including shooting, poisoning, trapping and fencing, combined with land management practices, are most effective.
Can be controlled outside national parks and other protected areas.
See the dingo fact sheet (PDF, 4.8MB) for more information.
Visit pest animal control methods for more information.
Legal requirements
The dingo is a category 3, 4, 5 and 6 restricted invasive animal under the Biosecurity Act 2014.
You must not move, keep, feed, give away, sell, or release into the environment. Penalties may apply.
You must take all reasonable and practical measures to minimise the biosecurity risks associated with dealing with dingoes under your control. This is called a general biosecurity obligation (GBO).
At a local level, each local government must have a biosecurity plan that covers invasive animals in its area. This plan may include actions to be taken on dingoes. Some of these actions may be required under local laws. Contact your local council for more information.
The dingo is defined as both 'wildlife' and 'native wildlife' under the Nature Conservation Act 1992, and is a natural resource within protected areas such as national parks. Under the Nature Conservation Act 1992, protected areas have prescribed management principles, which refer to protecting and conserving the natural resource and the natural condition.
Further information
Last reviewed: 6 Sep 2021

Last updated: 6 Sep 2021