Watercourse identification map
The watercourse identification map shows the known extent of watercourses and drainage features that are managed under the Water Act 2000. Lakes and springs may be added in future map updates.
Access the map
View the map on the Queensland Globe by toggling the Watercourse identification map (Water Act 2000) layer, accessed through the Inland Waters category.
If you notice any errors or corrections to the map please notify your local Department of Natural Resources, Mines and Energy (DNRME) business centre.
Map features
This table shows the authorisation requirements for each type of water feature.
| Type of feature | Feature on map | Authorisation required |
| --- | --- | --- |
| Watercourse | Blue line | An authorisation under the Water Act is required to take water, interfere with the flow of water, take quarry material, or excavate and place fill in a watercourse. Contact your regional DNRME office for advice regarding an authorisation under the Water Act. |
| Drainage feature | Red line | This water is considered overland flow water and may require an authorisation to take or interfere with. Information on the regulation of overland flow water can be found in the relevant water plan area. |
| Yet to be mapped | Light grey line | In many cases, a feature occurring on your land may not be currently mapped as either a watercourse or drainage feature, and may be shown as a grey 'yet to be mapped' line on the map. You will need to contact your regional DNRME office to obtain advice on whether this feature on your land is a watercourse, drainage feature, lake or spring under the Water Act. Please note that the absence of line work in the 'yet to be mapped' layer does not mean that a feature is necessarily a drainage feature. |
| Downstream limit of a watercourse | Blue point | The point marking the downstream termination of a watercourse managed under the Water Act. The provisions of the Coastal Protection and Management Act 1995, managed by the Department of Environment and Heritage Protection apply downstream of the downstream limit. |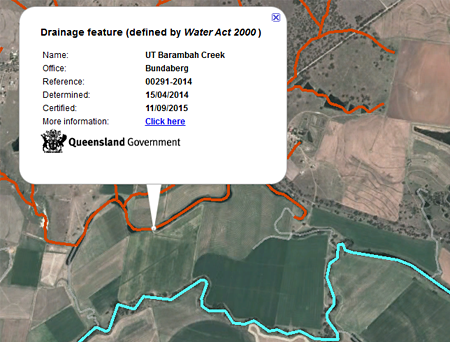 A sample view of the watercourse identification map.
Additional data
The map also contains extra information to each mapped feature (except 'Yet to be mapped'), including:
Field name: description of the water feature
Name: watercourse, lake, spring or drainage feature name
Office: local office that made the determination
Reference: reference to supporting documentation (e.g. file number)
Determined: date determination was made
Certified: date certified by delegated officer.
Last reviewed: 16 Jun 2017

Last updated: 19 Jan 2018