Take our survey to help us provide the best possible support to your small business during COVID-19 and beyond.
Redwood
Alert
Have you seen Redwood?
Be on the lookout for Redwood and report it to Biosecurity Queensland. Early detection and reporting are the key elements in controlling Redwood.
Call us on 13 25 23.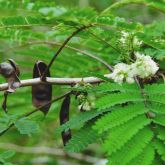 Native to the Caribbean and tropical South America, redwood is a bushy shrub. Originally imported and planted in northern Queensland as a cattle feed, redwood escaped cultivation and invaded surrounding land. It forms dense thickets that replace native vegetation.
Redwood is a prohibited invasive plant under the Biosecurity Act 2014.
Scientific name
Acaciella glauca (previously known as A. curassavica, Acacia gluaca)
Description
Bushy shrub between 1.5-6m tall.
Flowers are white, oblong, on a short spike.
Leaves are green, 4.5-13cm long, consisting of 3-9 pairs of opposite primary segments, each with 18-24 pairs of leaflets.
Branches are deep red.
Seed pods are oblong, 6cm long, 1-1.5cm wide.
Pods contains 5-8 seeds.
Seeds are dark brown, 3-5mm long, 3mm wide.
Habitat
Prefers open (disturbed) habitats in tropical rangelands.
Distribution
Found in small populations around Ingham and Proserpine.
Life cycle
Flowering occurs throughout most of the year in northern Queensland.
Reproduces from seeds.
Impacts
Environmental
Invades open tropical rangelands, especially along roadsides.
Forms dense thickets, replacing native vegetation.
How it is spread
Seeds spread by cattle, wind and floodwater.
Legal requirements
Redwood is a prohibited invasive plant under the Biosecurity Act 2014.
It must not be given away, sold, or released into the environment without a permit.
The Act requires that all sightings to be reported to Biosecurity Queensland within 24 hours.
By law, everyone has a general biosecurity obligation (GBO) to take all reasonable and practical steps to minimise the risk of Redwood spreading until they receive advice from an authorised officer.
Further information
Last reviewed: 30 Oct 2015

Last updated: 17 Jun 2016