Take our survey to help us provide the best possible support to your small business during COVID-19 and beyond.
Karroo thorn
Alert
Have you seen Karroo thorn?
Be on the lookout for Karroo thorn and report it to Biosecurity Queensland. Early detection and reporting are the key elements in controlling Karroo thorn.
Call us on 13 25 23.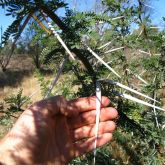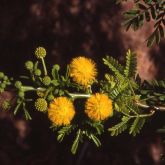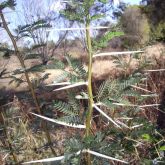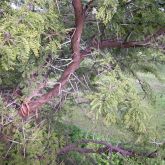 Native to southern Africa, Karroo thorn is a fast-growing shrub or tree. It could become a major weed in Queensland, with the potential to reduce agricultural productivity by suppressing the growth of grasses.
Karroo thorn is a prohibited invasive plant under the Biosecurity Act 2014.
Scientific name
Vachellia karroo
Other names
Sweet-thorn, cockspur thorn, Cape gum, mimosa thorn
Description
Shrub or tree up to 12m tall.
Thorns are white, paired, up to 10cm long.
Flowers are yellow, ball-shaped, in clusters of 4-6, 1-1.5cm in diameter.
Bark is rough, red-brown to black.
Leaves are light-green, fern-like, up to 12cm long, 5cm wide.
Leaflets are 3.5-8mm by 1-3mm.
Seed pods are sickle-shaped, woody, slightly constricted between seeds, up to 16cm long, 1cm wide.
Habitat
Prefers range of soil types, generally in areas of rangelands in subcoastal, semi-arid and arid southern Queensland.
Drought-tolerant due to extensive root system.
Distribution
Two recorded infestations on the Darling Downs.
Life cycle
Reproduces by seed; large trees produce up to 19,000 seeds per year.
Seeds can lie in soil for 7 years and still germinate.
Flowering occurs mostly during summer.
Impacts
Environmental
Invades large areas, particularly where land has been overgrazed.
Resists fire and is well-suited to rangelands and open grasslands.
Economic
Reduces agricultural productivity by suppressing grass growth.
Prevents stock movement and can restrict watering.
How it is spread
Seeds spread by wind and water or in droppings of animals.
Control
Call 13 25 23 if you find a plant you suspect may be karroo thorn to seek advice on control options.
Legal requirements
Karroo thorn is a prohibited invasive plant under the Biosecurity Act 2014.
It must not be given away, sold, or released into the environment without a permit.
The Act requires that all sightings to be reported to Biosecurity Queensland within 24 hours.
By law, everyone has a general biosecurity obligation (GBO) to take all reasonable and practical steps to minimise the risk of Karroo thorn spreading until they receive advice from an authorised officer.
Further information
Last reviewed: 31 Oct 2015

Last updated: 24 Dec 2018