Take our survey to help us provide the best possible support to your small business during COVID-19 and beyond.
Cha-om
Alert
Have you seen Cha-om?
Be on the lookout for Cha-om and report it to Biosecurity Queensland. Early detection and reporting are the key elements in controlling Cha-om.
Call us on 13 25 23.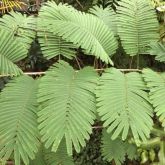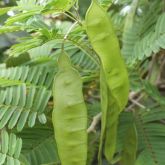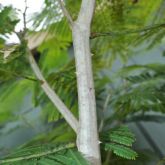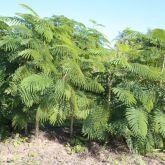 Native to south and South-East Asia, cha-om is a prickly shrub. It can be confused with the native species Senegalia albizioides and a near-threatened, native climbing and prickly subspecies. It invades nature ecosystems.
Cha-om is a prohibited invasive plant under the Biosecurity Act 2014.
Scientific name
Senegalia pennata sp. insuavis
Description
Shrub up to 5m tall.
Scattered prickles along branchlets, stems.
Leaves are bipinnate.
Flowers are cream-yellow.
Pods are flattened.
Flowers, leaves, stems have strong odour.
Can be confused with native species Senegalia albiziodes and Senegalia pennata subsp. kerrii.
Habitat
Prefers disturbed habitats, generally near rainforests.
Distribution
Occurs sparingly naturalised in north Queensland.
Impacts
Environmental
Invades natural ecosystems.
Economic
Invades pastures and reduces beef production.
How it is spread
Spread by people who grow it for use as a vegetable.
Control
Call 13 25 23 if you find a plant you suspect may be pennata wattle or cha-om to seek advice on control options.
Legal requirements
Cha-om is a prohibited invasive plant under the Biosecurity Act 2014.
It must not be given away, sold, or released into the environment without a permit.
The Act requires that all sightings to be reported to Biosecurity Queensland within 24 hours.
By law, everyone has a general biosecurity obligation (GBO) to take all reasonable and practical steps to minimise the risk of Cha-om spreading until they receive advice from an authorised officer.
Further information
Last reviewed: 4 Jul 2018

Last updated: 4 Jul 2018