Bitter weed
Alert
Have you seen Bitter weed?
Be on the lookout for Bitter weed and report it to Biosecurity Queensland. Early detection and reporting are the key elements in preventing Bitter weed from becoming a major problem in Queensland.
Call us on 13 25 23.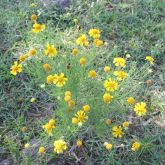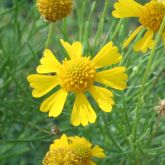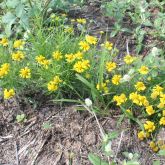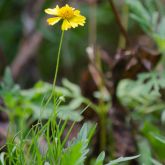 Native to south-eastern USA and Mexico, bitter weed is a compact annual with small yellow flowers.
Bitter weed is poisonous to livestock and competes with pasture and native vegetation. In Queensland, it has been found at only 1 location, near Mt Tarampa in the Lockyer Valley.
You must take reasonable action to minimise the risk of spreading bitter weed to ensure the situation isn't worsened.
You must report all sightings to Biosecurity Queensland within 24 hours.
Scientific name
Helenium amarum
Description
Annual herb up to 60cm tall, compact and bushy under favourable conditions.
Stems are smooth and branching with numerous leaves.
Leaves are smooth, narrow, thread-like, light green to gray-blue.
Flowers are yellow, daisy-like, about 2cm in diameter.
Unnoticed when competing with other plants, producing a single flower on plants as small as 5cm tall.
Habitat
Prefers open fields, roadsides and disturbed areas in subhumid, warm temperate and subtropical areas where annual rainfall does not exceed 1,000mm.
Distribution
Only known to exist at a single location near Mt Tarampa in Lockyer Valley in South East Queensland.
Life cycle
Flowers mostly over spring and summer.
Scented flowers are pollinated by insects such as bees and butterflies.
Mature seeds are non-dormant and germinate readily in sunlight.
Impacts
Environmental
Competes with native vegetation.
Economic
Potential weed of pastures.
Poisonous to stock, including sheep, horses and cattle.
Taints milk of dairy cattle.
How it is spread
Seeds in hay, silage and on vehicles.
Control
Before undertaking any preventative or control actions, contact our Customer Service Centre.
Physical control
Hand-pull, ensuring entire root system is pulled up.
Herbicide control
Broad-leaf herbicides such as 2,4-D or Grazon P+D® can be effective.
Biological control
No known biological control agents.
Legal requirements
Bitter weed is a prohibited invasive plant under the Biosecurity Act 2014.
You must not keep, move, give away, sell or release into the environment. Penalties may apply.
You must not take any action reasonably likely to exacerbate the biosecurity threat posed by bitter weed.
You must take any action that is reasonably likely to minimise the biosecurity threat posed by bitter weed.
You must report all sightings to Biosecurity Queensland within 24 hours.
Further information
Last reviewed: 30 Sep 2021

Last updated: 6 Oct 2021