Writing a business plan
A business plan documents your objectives and the strategies and structures you have in place for achieving them.
Your business plan should explain how you will manage all the important aspects of your business, from products and services to operational plans and finances.
Video: Writing a business plan
Watch our video on why you should write a business plan for your new or current business.
Topics include:
why it's important to create and review a business plan
the information to include in your business plan
using a business plan to achieve your business goals
downloading and completing our business plan template.
Use a business plan to:
help you start a new business
help you improve the performance of an existing business
attract funding for an investment
communicate business progress to stakeholders
communicate business goals and objectives to internal staff members
attract potential buyers for the business.
A business plan is a 'living' document, so it should evolve and change—think of it as an operating guide for your business throughout the start-up, operations and succession phases.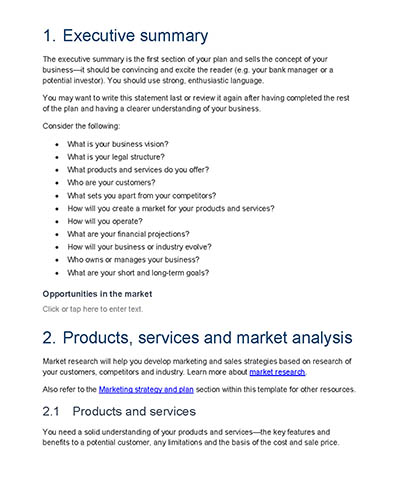 Download and write a full business plan
Download our free full business plan template and use the guidelines below to write a plan for your business.
There are also other templates available that may better meet your needs—visit business.gov.au.
You should customise your chosen template to suit your business and industry.
We explain below how you can start with a 1-page business plan to ease you into the process of completing the full business plan.
Business plan elements
The elements of your business plan will vary depending on:
what phase your business is in (starting, running, selling)
the industry your business is in
how you choose to use the plan (e.g. for internal development purposes).
Every business plan will be different, but they will generally include similar elements. The sections of our business plan template are listed below—use these as a guide when completing it or as a reference when creating your own.
At the start of your business plan, include the following business details:
business name
date registered
owner(s)
Australian Business Number (ABN)
Australian Company Number (ACN) – if applicable
tax file number (TFN)
business address
contact details
website details
social media details.
Read about choosing a business structure and getting the right licences and registrations.
This section provides an overview of the business concept. It should be attention-grabbing and succinct—the content will be covered in more detail in future sections.
While this is the first section of the plan, it can often help to write it last after the other sections have been finalised.
This helps to ensure that the executive summary covers all the key information within the plan.
It should define:
what your business vision is
what your legal structure is
what products and services you offer
who your customers are
what sets you apart from your competitors
how you will create a market for your products and services
how you will operate
what your financial projections are
how your business or industry will evolve
who owns or manages your business
what your short-term and long-term goals are.
Refer to the corresponding sections in our free business plan template:
2.1 Products and services
2.2 Market analysis
2.3 Industry description and outlook
2.4 SWOT analysis
In this section, you should highlight your business products and services and describe what makes them unique, such as their:
features
benefits
limitations
cost and sale price.
You can also include details of any plans your business has to introduce new products and services.
Your market analysis should describe your target market (e.g. local, international) and target customers.
Add in the research you have done about your industry and the market trends.
In this section, you will also complete a SWOT analysis (strengths, weaknesses, opportunities, threats).
Find out more about researching your market:
Refer to the corresponding sections in our free business plan template:
3.1 Current situation
3.2 Marketing objectives
3.3 Target segments
3.4 Competitor analysis
3.5 Brand positioning
3.6 Marketing programs
3.7 Marketing tactics
3.8 Key actions
3.9 Business controls
A business plan should include a high-level summary of your market research and analysis.
Starting with your current situation, complete your marketing objectives and analysis around your target market and your competitiveness.
Complete your customer and competitor profiles and develop a 1-page brand strategy.
These will help you prepare your marketing plan in section 3 of the template.
Your plan will include marketing tactics and an action plan. You will identify how you will set KPIs and report on your marketing effectiveness.
Learn about:
Refer to the corresponding sections in our free business plan template:
4.1 Sales strategies
4.2 Sales analysis and forecast
4.3 Customer management
Explain your sales forecasts and targets in this section, and how you will manage customer records and payments. You should understand what sales strategies will work for you and the best channels to market your products or services.
You will also need to know what your current sales, volume and market share are and what you expect them to be for the next 2 years.
Learn about cash flow, invoices and payments and how to collect and store customer information for help with managing customers.
10.1 Review and update business goals
10.2 Make a schedule to review your actions
The final section of the business plan should include a set of actions to take before you review your business plan next, and check your progress. This should be over a 6–12 month period, based on the business goals outlined in your plan.
Set a regular review date for the actions and the business plan. Assess which actions have been completed, which remain outstanding and which require updating to help your business plan remain relevant.
Read about skills for running a business to consider ways to improve your time management and leadership.
Optional business plan elements
While not essential, the following can supplement your business plan.
Business vision statement and business values
A comprehensive business vision statement defines what your business does and why it is important.
This could be added in more detail in your business plan and referred to in your executive summary. Find out how to create a business vision.
Business values are the principles, beliefs, and standards of behaviour that guide your business. Including this in your plan will better reflect your goals for the business.
Customer journey strategy
This section could include details of your business's key customer service strategies.
Consider mapping out the intended customer journey—the intended path customers will follow when interacting with your business.
Start with a short business plan
A 1-page business plan can be a good place to start your business planning.
It can cover only high-level information about your business value proposition (i.e. why a customer would want to buy your products and services) and business model.
A one-page plan can include details about:
your business vision and values
projected income and expenses
identified business risks
the customer segments you intend to target
the value proposition of your business
channels that could be used to reach your target customers (e.g. direct or online marketing)
your customer service plan
how you will receive payment for products and services
the activities needed to achieve your outcomes
the resources you will need
details of any partners you will use to provide goods and services
the cost structure for your products and services (based on all items as listed in the plan).
You can search online for tools that can help you create this plan—for example, a value proposition canvas or business model canvas.
Once you are satisfied with this short business plan, you can use it as the basis for your full business plan.
Communicating your business plan
Communicating your business plan to your staff and stakeholders is essential for implementing it and achieving your business goals, even when starting out with a small team.
Some practical tips for communicating the plan include:
being mindful of your audience—different communication styles will suit different audiences (e.g. you may be able to communicate more informally with your staff than with your stakeholders, board members or investors)
choosing an appropriate format, time and place—you could hold a staff meeting, schedule a business plan review session and invite all staff and stakeholders to attend, or create an online presentation
using clear, concise and simple language
making time to get feedback from your staff and stakeholders.
Read about skills for running a business for tips on developing your communication skills.
Learn about managing people through change.
Review and update your business plan
You will need to regularly review your business plan to ensure that it is relevant, achievable and up to date with any changes in your business.
Consider reviewing your business plan:
To help you review your own plan, ask yourself the following questions:
What will the review schedule be?
Is the plan up to date?
Have the business goals changed?
Is the plan still matched to the business goals?
Are market trends changing?
Have there been major political, environmental, social or technological changes that affect your business?
Have there been significant changes in your finances or need for capital?
Is the plan still 'fit for purpose'?
Business planning resources and tools
The following planning resources and tools below can help you compile and update your business plan to ensure your business is on track to meet its goals.
Learn more about business planning with free, online courses.
Resources for finding licences, permits and codes of conduct
Use the Business Launchpad to discover all your licensing needs, compiled in your own customised guide.
You can also search for licences, permits and codes of practice using the Australian Business Licence and Information Service (ABLIS).
Learn about codes of conduct and codes of practices from:
Last reviewed: 8 Dec 2022

Last updated: 1 Jun 2023