Branding your business
You need a strong, distinctive brand to keep your business thriving. Your brand shows:
who you are
what you stand for
how you're different from your competitors.
This resource provides practical guidelines to establish a new brand or improve an existing brand.
What is a business brand
A brand is much more than a name, logo and tagline.
It's what comes to mind when existing and potential customers think of you. It answers the question:
What do you want to be known for?
Your brand includes:
what your customers think and feel about your brand
how they identify, recognise and experience your business.
A brand is made up of 2 elements:
tangible (e.g. premises, uniforms, campaigns)
intangible (e.g. reputation, service, behaviour).
Your brand represents the sum total of the experience.
Defining brand
'A brand is simply a collection of perceptions in the mind of the consumer.'
Paul Feldwick
Principles of a strong brand
Your brand is the external expression of your internal culture. To be credible, your actions must match your words. That's why your brand is shaped by every employee and every action.
A strong brand is unique and relevant. It will enable you to:
express the genuine value of your business
bring more brand clarity and consistency
unite employees around a shared purpose.
Consider your favourite brands
Think about your own personal experiences: we're all customers and we all have our favourite brands.
Reflect on why these are your favourite brands. This may give you some valuable clues about what sets brands apart.
Business and personal brand
Whether or not you intend to, you have a personal brand. For many businesses, the face of the brand is the founder, owner or leader. It's important that there's a natural and logical association between your business and personal brand.
Your personal brand:
may be a big part of the reason why customers choose to buy products or services from your business
can add to the credibility of your business brand
is particularly relevant if you operate a business where you're directly involved with external stakeholders.
The same principles of a strong business brand also apply to a personal brand. You should also:
stay focused—show your passion about your area of expertise
tell the story—talk about your business heritage and vision
be yourself—let your character and personality shine through.
Do an internet search on 'building a personal brand' to find more ideas and inspiration for your brand.
Do a brand audit
If you have an existing brand, you can do a brand health check. By taking a step back and looking at the big picture, you can learn a lot about your brand and your customers.
The brand audit evaluates your:
performance from your customer's perspective
positioning relative to different competitors.
It's a way to see how the brand you intend to project matches with the brand you are, in fact, projecting.
You can complete a brand audit within your existing team or hire a marketing agency to provide an external perspective.
The following 3-step review process can guide the brand audit.
You might do a brand audit:
every few years to assess brand strengths and weaknesses
to meet an immediate need because

of a marketing challenge (e.g. customer engagement has gone down)
you need to reposition your brand (e.g. your business has changed).
By understanding what you are trying to achieve, you'll have a clearer view of what framework to use and where to focus your efforts.
Depending on your resources, you can evaluate your brand by:
asking your existing and potential customers through market research
reviewing data trends from primary sources (e.g. your sales figures, or social media and website data)
looking at direct and indirect competitors to see if their brand has changed
doing an internal survey to find out how much your employees understand and support your brand
using our template to review your marketing collateral.
Based on your audit goals and outputs, the next steps are to:
rate how well your actual brand matches up to your intended brand
highlight and prioritise areas for improvement
generate ideas based on customer insights
add initiatives into your marketing action plan.
Also, remember that the key findings from your brand audit will most likely influence your business plan and marketing strategy.
Share the results of the brand audit with your employees.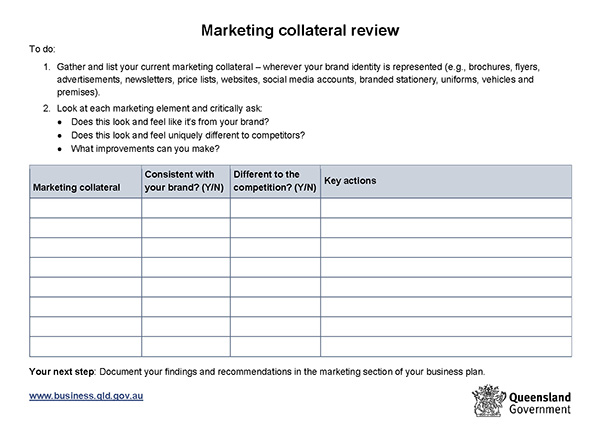 Download the marketing collateral review template
Marketing collateral review template
Print out all the marketing collateral you've used over the past year (e.g. from your website to business cards) and display it on a wall. Ask yourself:
does everything look like it's from the same brand?
does it look unique and different from your competitors' material?
To make this easier, you can use our template for reviewing marketing collateral.
Develop your business brand
To become distinctive, your business brand must be:
salient—your brand must be front of mind when customers are ready to act
different—your brand must continue to stand out from your competitors
meaningful—your brand must be understood by everyone involved.
To be as effective as possible, work on all 3 of these factors. For example, if you make potential customers aware of your brand, also make sure they understand what you do or how you can help.
You want to find and show your brand truth. This is the position you want to hold in the minds of your target customers.
You can use this 3-step brand development process as a guide.
This step is an internal and external review of your current business status to help identify future opportunities.
For this stage, explore the 3 Cs of your brand, namely your:
company
customers
competitors.
You can base this on internal and external sources, including:
your latest business plan and available research reports
online research into the key trends and considerations in your industry
meetings with employees, partners and external agencies
market research with existing and potential customers.
summarising the research findings from your marketing research together with your brand audit.
You can now use this analysis to shape your ideal brand positioning.
The goal of this step is to develop a practical and useful plan—like a blueprint—that clearly summarises your business brand and shows the way forward.
It's worthwhile discussing your brand blueprint with your staff, or even running a workshop to get feedback and ideas. Look at different brand examples and then consider these things for your business:
vision—the long-term ambition you have for your business
purpose—the 'why' of your business, the main reason (not financial) your business exists
values—the behaviour that your business supports and encourages
promise—your commitment to everyone involved with your business
personality—your voice, the tone, manner and style that represents your business
proof—the emotional and practical benefits your business delivers.
This is a long-term brand blueprint that acts as your behind-the-scenes toolkit. It's a way to evaluate your actions and prompt new initiatives. It's how people choose brands—not by what they do, but why they exist.
Based on your brand strategy, you need to establish your brand identity, including your name and logo. Whether this is an existing or new brand, the information below can help you bring your brand to life.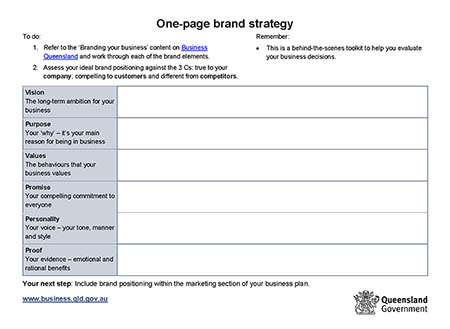 Download the one-page brand strategy template
One-page brand strategy template
Writing down your brand strategy will help you to:
define your brand positioning
evaluate your branding decisions.
Use this template to guide your brand strategy.
This step is about developing powerful, professional and consistent branding that appeals to your target customers.
Brand consistency
What your brand 'says' and 'does' should be the same. Customers are put off when a brand over-promises and under-delivers.
You need to consider how your brand is reflected in every aspect of your business. Incorporate these 3 streams of ongoing work into your action plan:
communication—how your brand is presented across all channels
culture—your internal business values and employee behaviours
experience—every face-to-face, telephone and online interaction.
Take a long-term approach to building your business brand.
Brand identity
Your brand identity is the external presentation of your brand. This identity appeals to the senses. It's what your customers see, hear, touch and even smell. It's mostly physical. It consists of elements such as your:
business name
logo
tagline
colours
fonts
graphics
images.
By adding strong brand 'codes' (like your business name, look, jingle or even a character) to these elements of your brand identity, you can increase the likelihood that customers will:
recall who you are
feel more confident about your brand
make a decision
pay a premium
become loyal to your brand.
If you're setting up a new business (or if you need to rebrand), you'll need to develop your brand identity. Start by creating or updating your name and logo. Make them:
simple
memorable
ownable (clearly yours and only yours)
enduring
versatile.
Consider a specialist
It may be tempting to try to create a brand identity yourself to save money. However, unless you have the expertise, you'll most likely benefit from working with external partners. A brand consultant or graphic designer could help turn your vision into reality. Always seek legal advice about intellectual property, including patents and trademarks.
Find out how to register a new business name.
Brand guidelines
Once you've developed your brand identity, you document the rules around how to use your brand assets in a style guide. This helps to ensure your brand assets are presented in a consistent and cohesive way across all your internal and external touchpoints.
To make this easier, keep a checklist of your different channels, for example, your:
premises
websites
social media
brochures
company vehicles
workwear or uniforms.
A quick internet search will provide plenty of examples of brand guidelines. If you're working with a brand consultant or graphic designer, include these guidelines in your brief.
When you implement your marketing programs, ensure that your brand guidelines are followed in your advertising, direct marketing and online marketing.
Remember the 3 Cs
Your brand strategy may remain in place for many years, but your brand delivery will require ongoing effort, initiatives and tracking. Ask these questions about what you are delivering:
Is it true to the company (e.g. your company culture)?
Is it compelling to customers (e.g. does it address their needs)?
Is it different to competitors (e.g. is your identity unique)?
If you have more than one brand
If your business incorporates more than one brand, you need to be clear about the:
role of each brand
relationships between the brands.
The way your brands relate to each other, is commonly referred to as your brand architecture. It's like an organisational structure, but for brands instead of employees.
In the long term, a strong brand architecture will help your business to:
grow
manage brand risk better
be more cost effective
build brand equity (the extra value your brand adds to your products or services).
To help you decide what brand architecture will work best for your business and your customers, you can follow these steps:
Write down how your brands currently work together
Evaluate how well this model works
Decide on, and document, the brand changes you need to make.
Brand architecture types range from 'branded house' to 'house of brands'. Between these extremes, there are combinations that could include sub-brands and endorsed brands (brands using the brand equity of the parent brand).
Type
Description
Advantages
Disadvantages
Examples
Branded house
A cohesive and powerful master brand supporting a range of products and services

Very cost efficient
Easy to manage
Focused and united

Lack of distinction between products
Relatively inflexible
Bad news affects all

House of brands
A collection of standalone brands under a parent brand, which is often in the background

Can target niche markets
Independent and diverse
Protects parent brand name

Expensive to operate
Complex to manage
Potential for confusion
For most businesses, the business name is the brand name. That's why the branded house is the most used model. When marketing on a small budget, it's best to have one brand, one strategy and one budget.
Last reviewed: 29 Aug 2022

Last updated: 6 Oct 2022