Marketing basics for business and the 7 Ps
Effective marketing will help to achieve your goals and grow your business. It will build awareness, attract customers and build lasting, profitable relationships.
Defining marketing
Marketing is about planning and executing the development, pricing, distribution and promotion of products and services to satisfy the needs of your customers.
The main role of marketing is to deliver customer value to attracting new customers and keeping existing ones. This is achieved by:
knowing what customers need
coming up with solutions to meet these needs.
Marketing is about the principles that guide your customer-focused actions.
It is a comprehensive process that determines how to go to market with your products and services. For your marketing to be successful, you'll need a strong understanding of your brand positioning and the needs of your customers.
'Marketing is the science and art of exploring, creating and delivering value to satisfy the needs of a target market at a profit.'
Dr. Philip Kotler
Both science and art are important elements of marketing practice. The science of insights, analytics and metrics, and the art of creative ideas and clever execution should work together.
Marketing challenges
Many businesses find it challenging to do effective marketing because of:
lack of time and resources (like staff and money)
the growing complexity and continuous change in the world their business operates in, including

new technology and new channels, which require new skills and specialisation
increased competition, which has given customers an abundance of choice.
Technological advances have made customers more connected, informed and empowered than ever before. To meet the changing expectations, preferences and behaviours, your business must be:
brand driven
customer focused.
In practice this means that you should start with strategic thinking, marketing strategy and planning before getting into the tactics (the steps and activities).
By understanding your current situation, you'll be better able to recognise gaps and make improvements. To get more out of your marketing efforts, answer the following questions:
What role does marketing currently play in your business?
Does your marketing strategy align with your business strategy?
Does your business have the right marketing skills and resources?
The 7 Ps of marketing
Marketing is delivered through a combination of elements—the 'marketing mix'. These elements are also often referred to as the 7 Ps of marketing.
This popular and practical marketing model can help you to:
do a marketing audit
refine your value proposition
do a competitive analysis.
Review your 7 Ps regularly
Assess your 7 Ps regularly to make sure they keep up with:
your competitors
changing customer needs
technological advancements.
This is about the activities involved in delivering your products or services. In simple terms, it's about being 'easy to do business with'.
An effective process helps you to:
achieve repeatable and consistent customer service levels
save time and money by increasing your operational efficiency.
Action item: map out the process
It's helpful to map out the end-to-end journey from your customer's perspective. Explore all potential brand interactions, for example:
sales
service
ordering
delivery
payment.
Also consider the technology you use and the partners you deal with.
Discover more about business processes and procedures together with customer journey mapping.
This refers to all existing and potential features customers see when engaging with your business.
Physical evidence:
is the tangible proof that establishes credibility
includes the look and feel of your business branding
spans the physical and digital environment.
Physical evidence may be:
a retail store
interior design
a business website
online ratings and reviews
the uniforms and behaviour of employees.
Consider everything about your business that can be seen or otherwise observed, and how it can help to reinforce your brand and elevate your business.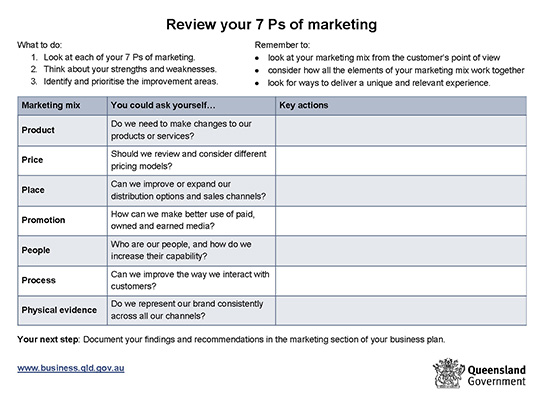 Action item: review your 7 Ps of marketing
To maximise your success, you need to make the most of your marketing mix. The power of marketing lies in combining the different marketing elements in an effective way.
To help you do this, use our template to evaluate your 7 Ps.
Marketing in practice
Marketing is an essential part of your business. Take a practical and phased approach by following the step-by-step guide to develop your marketing strategy and plan.
Before taking the next step, think about these critical success factors:
resources—do you have the right people, time and budget?
expertise—do you have the right knowledge and skills?
communication—do you have a collaborative approach?
These factors will determine if you can reach your marketing goals. Identify where you need to focus your effort on by completing the interactive marketing health check.
Last reviewed: 29 Aug 2022

Last updated: 29 Aug 2022